U.S. Sen. Kirsten Gillibrand visited Colonie High School in October to announce her
bipartisan legislation, 21st Century Strengthening Hands On Programs that Cultivate Learning Approaches for Successful Students Act.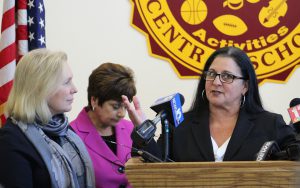 This bill would direct federal funding to high-tech training and education programs in high schools, colleges and universities, which would give more students the opportunity to learn the skills necessary to get good-paying jobs in the high-tech manufacturing sector.
"Many manufacturing companies in our state have job openings with good salaries, but they can't fill them because too many workers haven't had the opportunity to learn the skills they need to take on those jobs. We need to fix this," said Sen. Gillibrand.
"I'm proud to introduce new bipartisan legislation to make sure tech-ed classes are teaching students how to use the latest high-tech tools, like 3-D printers, that manufacturing companies expect them to know how to use. Our students should be able to take many different paths in order to get a good job and earn a good salary, and this bill would help equip more students with the skills they need to get on a path toward good-paying, high-tech jobs when they graduate high school."
Joining the senator were local education leaders, including Capital Region BOCES District Superintendent Anita Murphy who spoke about the importance of career and technical education.
"The New York State Education Department highlighted CTE as a success indicator in its recent submission of the state's ESSA [Every Student Succeeds Act] plan. Statewide, 95 percent of BOCES CTE seniors graduate on time and 52 percent of them go on to college. Further, high school graduates with CTE certifications and training are snapped up by employers because they have marketable skills that are in high demand in this region and beyond. An investment in 21st-century career and technical education classrooms is a win for kids, communities and the state workforce as a whole."
U.S. Senator Todd Young (R-IN) introduced this legislation with Gillibrand. A bipartisan House version of this legislation was introduced by Representatives Tim Ryan (D-OH), Steve Stivers (R-OH), Mark Takano (D-CA) and Susan Brooks (R-IN).