Stephen Zwack finds success and a career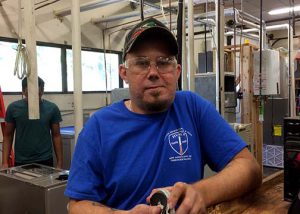 From high school drop-out to member of the National Technical Honor Society Academic Achievement Award winner.
That's the life path for Stephen Zwack who graduated in June from the Capital Region BOCES Career and Technical School Heating, Ventilation, Air Conditioning and Refrigeration (HVAC/R) adult program.
Zwack was supposed to graduate from Berne-Knox-Westerlo (BKW) high school in 2001, but life intervened.
"I ended up quitting to take care of my family, who couldn't take care of themselves," he said recently.
Fast-forward 16 years and Zwack graduated from the CTE adult program in 2017 with an academic achievement award and found work in the industry immediately. In May, he was inducted into to the National Technical Honor Society (NTHS), having earned a GPA greater than 92 percent during his time at CTE.
Once he returned to school at BOCES, Zwack, who is in his mid-30s, was committed to getting his certifications and completing the two-year BOCES program.
"I turned down a couple of job offers to return to the program this year," he noted. "It was difficult, because the money was good, but I figured I wanted to complete what I started and then the opportunities would be greater."
Zwack learned of the HVAC/R program after earning a High School Equivalency (HSE) diploma through Capital Region BOCES and exploring the various adult education offerings.
"I loved the program. The work was interesting and the teacher is just great! You couldn't find a better teacher," he said of longtime HVAC/R educator Frank Ando.
As to his future, Zwack said he enjoys the HVAC/R industry and all it has to offer.
"The industry is huge. The opportunities don't stop," he said.