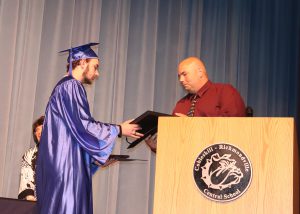 A pair of teens from Sharon Springs and Cobleskill-Richmondville high schools are recipients of scholarships from an area car club.
Rachel Rorick of Sharon Springs and Zachary Hines of Cobleskill-Richmondville, both of whom are graduates of the Capital Region BOCES Automotive Trades program, were awarded earlier this month the Schoharie Valley Region Antique Auto Car Association 2022 Scholarship.
Each student received a $350 gift card.
Rorick is going to the University of Northwest Ohio to study high performance technology and automotive repair. She credits BOCES with giving her a great head start on her career.
"I need hands-on work and I need to learn by working with my hands. I was able to do both at BOCES and that has helped me in the long run," she said.
Hines is entering the workforce upon graduation.
Teacher Randy Barber said he "became a big part of the class in ways I can only describe as leadership-like qualities" through demonstrating techniques to fellow classmates, collaborating on group projects and helping others, Barber said Hines was an asset to this program.
The Schoharie Valley Region Antique Auto Car Association 2021 Scholarship is a longtime supporter of Capital Region BOCES, offering scholarships to students and sponsoring a car show on campus to highlight CTE's offerings.
"We appreciate their longstanding support of Capital Region BOCES and our students," said Nancy Liddle, business liaison.