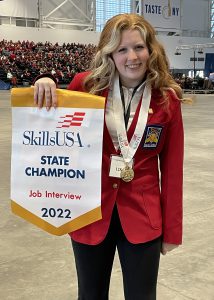 Three of our Career & Technical School students, two of whom are recent graduates, recently competed at the National SkillsUSA competition in Atlanta, GA . 
Jocelyn Howe, a rising senior from Mohonasen in the Capital Region BOCES Global Fashion program who won the New York State SkillsUSA Championship in the Job Interview contest, was joined at the national competition by Class of 2022 Game Design and Implementation graduates William Kruk of Schalmont and Gavin Christman of Cobleskill -Richmondville. Kruk and  Christman placed second in the New York State competition and competed in the video game design competition at nationals.
While they did not bring home medals, the competitors said the event was nonetheless a major learning event that also provided fun and excitement.
"Nationals introduced me to a community I have never experienced before with so much diversity and understanding of each other. It was a wonderful opportunity that I would personally love to do again," said Howe, who is a rising senior.
"Nationals was a great way to see where our industries are going and how we can adapt to changing tides," added Christman.
The competitors were accompanied by SkillsUSA advisors and Career & Technical School teachers Darryl Nunn and Barb Gorbaty,
Gorbaty praised the students' abilities to balance learning, competing and having fun.
"This has been one of the finest groups I have taken to SkillsUSA," said Gorbaty. "They have participated at the highest level and still taken time to relax, explore Atlanta and have fun."
Approximately 5,000 students from across the United States were in Atlanta last week for the competition.
About SkillsUSA
SkillsUSA is a professional organization teaching technical, academic and employability skills that help high school and college students pursue successful careers. Members build these skills through student-led charitable acts, leadership conferences and other activities. Students in SkillsUSA participate in hands-on competitions in various fields such as science; technology; engineering; mathematics; building construction; and heating, ventilation and air conditioning. All of this builds student confidence in themselves and their abilities.
Several Capital Region BOCES graduates have competed in the national competition in the past, some finishing as finalists and others even national champions.