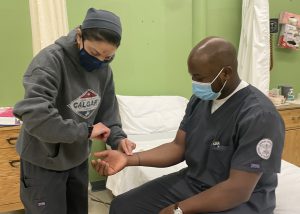 In the photo to the right, Adult Practical Nursing student Shahinda Ghaly takes the pulse of classmate Tenneil Thompson this semester. The pair are among more than 110 adults slated to graduate Tuesday from the Capital Region BOCES Adult Practical Nursing program.
Ghaly commuted 170 miles roundtrip daily from her home in Ulster County to the Career and Technical School in Albany for the last 10 months; Thompson commuted about 90 miles roundtrip daily from his home in Columbia County for the education.
"It's three hours a day in the car, but it is worth it," said Ghaly.
Ghaly, Thompson and the remainder of the students have completed 1,100 hours of education and clinical training through BOCES required to test for certification as Licensed Practical Nurses. They chose the program because its reputation as being among the best in New York state and the dedication and care of the faculty and staff
"It's a wonderful program. The teachers are especially magnificent. They want you to succeed and will do whatever it takes," Thompson said.
"I was an RN student at (a downstate college) and I had to leave because of my son's illness. I decided to go back and I looked around and even Dutchess BOCES recommended Capital Region BOCES, so I decided the drive was worth it for the education," said Ghaly.
"I've never seen more dedicated teachers. They support the students and put up with so much. They have given us a great experience and a start in our careers," she said.
The adults will graduate during ceremonies Tuesday at The Desmond. A ceremony for part-time program graduates begins at 4 p.m. followed by one for full-time graduates at 7 p.m.