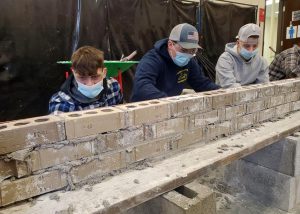 An area trade school is collaborating with Capital Region BOCES to bring a new skill set to area high school students this month. The Upstate Masonry Institute (UMI) taught a weeklong introduction to masonry course to students in the Construction/Heavy Equipment program earlier this month on the Career and Technical School, Schoharie Campus.
The institute will offer the same training starting Tuesday, Jan. 18 to students in the Building Trades program on Career and Technical School, Albany Campus.
The masonry exposure initiative introduces students to the Bricklayers Allied Craftworkers trade while taking a hands-on approach to learning the fundamentals of masonry with brick and block, said Amanda Bedian, director of business development & marketing at UMI.
"The purpose of our exposure initiative is to educate the construction tech students in masonry while informing them as individuals," Bedian said. "Across the trades, it's difficult to get workers, that's why we want to get into the classrooms to reach the next generation of skilled workers."
Bedian, along with members of the Bricklayer & Allied Craftworkers (BAC) Local 2 Union who took part in the training, said working with BOCES students is crucial to the future of the skilled trades.
"Over the years, we have had several students from Capital Region BOCES come into the Bricklayer & Allied Craftworkers (BAC) Local 2 NY/VT apprentice program who are now members of the union, earning a good wage, with benefits. They were well prepared and ready to go to work," said Kevin Potter, secretary for the union.
Bedian said the approximately three-dozen students who took part during the first training session were excellent.
"The effort and good attitude the students had throughout the week is what makes it all worth it," said Bedian following the program rollout for Heavy Equipment students.
Capital Region BOCES Business Liaison Nancy Liddle said BOCES has more than 300 students from 27 area school districts enrolled in construction programs.
"Providing the masonry training in conjunction with UMI is expanding their resumes and building strong, transferrable skill sets," she said.
Capital Region BOCES Senior Stephen Cote of Schoharie said he plans to go to work in construction once he graduates from BOCES in June.
"I like the hands-on nature of the work," he said.
Fellow senior Blake Smart of Schoharie concurred.
"I like that it's not just sitting at a desk all day. I could definitely see myself doing this," he said.