A Shenendehowa High School junior chose to attend our Career & Technical Education Center to further her skills and to help her join the family business.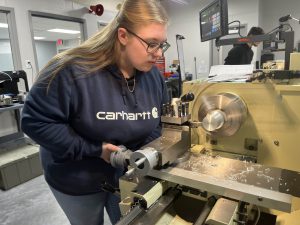 Riley Trudell aspires to work in, and one day take over, the family business Northway Fabricators so she enrolled in the Manufacturing & Machining Technology Program at Capital Region BOCES to sharpen her skills and forge a solid career path.
"I already work in the machine shop, but I believe it's a good idea to get the training so that I can better myself in the shop," said Trudell.
March is Women in the Trades Month
March is National Women in the Trades Month and throughout the month, Capital Region BOCES Career and Technical School is shining a spotlight on women in the trades, like Trudell, who are challenging stereotypes and building solid futures through their education in our programs.
Trudell's interest in manufacturing is challenging stereotypes. According to a U.S. Commerce Department article, women make up 47 percent of the American workforce but only 30 percent of the manufacturing industry workforce and only 25 percent of the women in manufacturing are in management positions. The Commerce Department article encouraged the industry to recruit women, noting that women in manufacturing earned on average 16 percent more than the national median annual income for women who are employed.
Programs in the skilled trades serve as a springboard for lucrative careers
Trudell said she views the two-year Manufacturing & Machining Technology Program at BOCES as a "steppingstone in my education."
CTE students learn design and prototype skills, as well as how to troubleshoot design problems and undertake the diagnostics necessary to manufacture a part. Students also learn how to operate everything from drill presses to the 3D printers.
"I enjoy coming in here, learning new skills and creating parts," Trudell said.
Teacher Kody Skeals praised the young scholar.
"Riley is an outstanding student with a promising future in the machining industry," he said.
Capital Region BOCES Managing Program Coordinator-Business & Community Partnerships had similar praise for the young scholar.
"Riley's positive attitude, commitment to the trade and excellent employability skills will ensure a bright future," Liddle said.
Learn more about Women in Trades and our programs
We celebrate and applaud women in the skilled trades well beyond the month of March but are using this time to encourage even more young women to consider non-traditional career paths by showcasing current female students and successful female graduates. Read more about our Women in the Trades!
Enrollment in programs – including Manufacturing & Machining Technology – is currently underway for the 2023-24 school year. Learn more about our career and technical school programs.