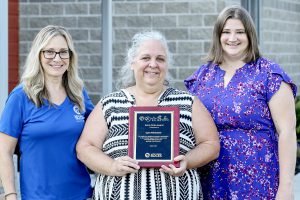 Lynn Palmateer, a special education teacher and lead mentor at Airline Academy, has received our 2023 Extra Mile Award. 
This award recognizes staff who go the Extra Mile by making a significant positive contribution to our Capital Region BOCES community and exemplify all of our guiding commitments throughout their work. Recipients are nominated and awards are given out annually at our staff Opening Day celebration.
Lynn's journey as an educator has spanned decades, with her influence extending far beyond the classroom. Lynn was nominated for the award by Airline Drive Academy Principal Barb Lounello,
 who says that Lynn's ability to guide and nurture young minds has consistently stood out throughout her career.
From the moment Lynn stepped into the education realm, it was evident that her approach went beyond traditional teaching. In her classroom, every moment is considered a teachable moment, and no opportunity for growth is left unexplored. Even during "nonacademic" times, Lynn's dedication shines through as she guides her students in communication, socialization, and personal development.
Lynn's impact extends well beyond the confines of her classroom walls. As the Lead Mentor, she not only formally mentors fellow educators but also offers her guidance and expertise informally. Colleagues often turn to Lynn for her thoughtful feedback and valuable insights when facing challenging situations. Her willingness to support others, without expecting anything in return, reflects her selflessness and deep commitment to the education community.
Moreover, Lynn's influence reaches beyond her immediate colleagues. She has been sought after by Capital Region BOCES to consult with teachers and observe students in other classrooms. Her willingness to share her knowledge and experiences has led to the growth and development of countless educators, fostering a positive impact on the lives of children throughout the region.
"Lynn is truly committed to the students she serves, the teachers she has mentored during her tenure, and to the success of our organization," says Barb, who has known Lynn for over 18 years. Lynn's exceptional communication skills, organization, and classroom management expertise have left an indelible mark on the educational landscape.
It is with great pride that we extend our heartfelt congratulations to Ms. Lynn Palmateer for being recognized with the Extra Mile Award. Her dedication to education, her students, and her colleagues exemplifies the spirit of this honor. Lynn's journey is an inspiration to all who strive to make a positive impact, going above and beyond to ensure that every child's potential is realized.