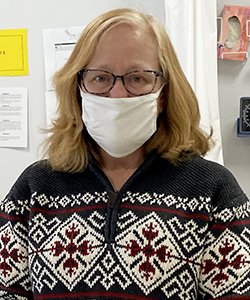 Career & Technical School Integrated Science Teacher Joanne Clegg, Ph.D. is among 230 educators selected for the New York State Master Teacher Program, as announced recently by Governor Kathy Hochul.
Clegg is the first teacher from our Career & Technical School to receive the state's designation that honors educators considered to be "leaders in STEM education who inspire students and their peers alike."
Clegg joins the more than 1,400 teachers from across the state who have been selected to be a part of the program during its nine years in existence.
As a Master Teacher, Joanne Clegg will:
Engage in peer mentoring and intensive content-oriented professional development opportunities throughout the academic year.
Work closely with pre-service and early career teachers to foster a supportive environment for the next generation of STEM teachers.
Attend required regional meetings at the SUNY campus, participate in and lead several professional development sessions each year.
Receive a $15,000 stipend annually from New York state.
"I am humbled to receive this designation," Clegg said. "Teaching is a team effort and reflects the work of so many faculty members and the students themselves."
An Award-Winning Philosophy
In 2019, Clegg was also honored as Teacher of the Year by the New York Association for Continuing and Community Education (NYACCE).
Clegg's award-winning philosophy in education is simple.
"The job of a teacher is not to help a student pass the test. The job of teachers is to find the key that opens the lock, enter the dark room and turn on the light for students," she said. "I firmly believe that everyone has the capacity to learn. It is the teacher's job to find the key that unlocks the door and turns on the light."
Clegg said the process of being designated a Master Teacher was intense. It  including a review of her teacher evaluations, recommendations from a supervisor and colleagues, a review of teaching practices, interviews and more.
The honor, though, will pay dividends not only for Clegg and the teachers she will assist, but also our students. In fact, Clegg will be delaying retirement to continue teaching in our programs and acting in this new Master Teacher role.