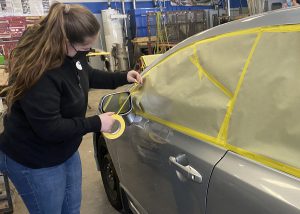 Collaboration between two area high schools is ensuring a local teenager can pursue her passion.
Kateri Martin, a junior at Tech Valley High School (TVHS), is spending the week at Capital Region BOCES Career and Technical School, Albany Campus, learning in the Auto Body Collision Repair and Refinishing Technology program.
"I am doing my I-Term here learning about the auto body industry," said Martin while working with Career and Tech Teacher Chris Shader on taping the windows of a car.
I-Term is when TVHS educators pause regular coursework so students can work closely with a mentor to create a unique, rigorous and applied learning experience.
When she returns to TVHS, Martin will report on her experience and give a report about what she learned.
"I have determined in high school that I prefer to not go into debt for college so I want to go into a blue collar trade when I graduate," she said. "Auto body combines my passions for art and cars."
"I didn't have this mindset in eighth grade when I enrolled in Tech Valley, but I developed it. My entire family is blue collar and it just makes sense. I do not want to go into debt and I don't want an office job. I like to be up and doing things, so why not pursue a trade?" she said.
Martin said she is appreciating her time at the Career and Technical School.
"I am enjoying it so far. I am learning a lot and doing things," she said.
Shader said Martin is interested in the industry at the perfect time.
"This is the perfect time for Kateri and other young adults to enter the industry because the average age of a collision tech is 50 years old. The older, experienced technicians can be a mentor and help train the next generation of techs," Shader said.