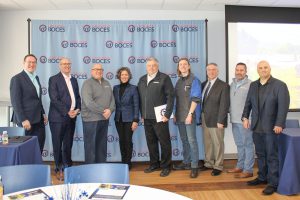 With approximately 100 business, education, state and community partners on hand, Capital Region BOCES launched on Wednesday a month-long celebration of national Career & Technical Education (CTE) Month.
"One thing we can collectively agree on is that career and technical education and the skilled trades are the backbone of our economy. We literally get a call everyday about where students can get trained for their work force," said Joseph P. Dragone, Ph.D., Senior Executive Officer, Capital Region BOCES during an hour-long event at the Career & Technical Education Center – Albany Campus.
Dragone was among a contingent of speakers who heralded the value of CTE and its impact on the regional, state and national workforce. Other speakers included Amber Rangel, Vice President and Director of Workforce Development, Empire State Development; Doug Ford, Vice President of Sales & Purchasing, Curtis Lumber Co, Inc.; Chris White, Deputy Commissioner of Workforce Development, New York State Department of Labor; Brian Williams, Executive Director, Capital Region Workforce Development Board and Board President, New York Association of Training and Employment Professionals (NYATEP); Brian Hemlock, President, TCI of New York; William (Bill) May, Service Manager, Capitaland Motors – Subaru/GMC and Tucker Cherry, Niskayuna Central School District, Capital Region BOCES Automotive Youth Education Systems (AYES) student and employee at Capitaland Subaru/GMC.
Throughout the event, Capital Region BOCES highlighted the work its Career & Technical Education Center does in helping students gain employability skills while still in high school; the value of business partnerships to students and CTE; and how important CTE is in building the regional workforce of today and tomorrow.
"Capital Region BOCES programs have long since provided the education students need and that supports economic security," said Rangel. "I want to thank Capital Region BOCES for their leadership in CTE and for helping thousands of students gain necessary skills and getting on the path toward their career.
White concurred.
"BOCES and career and technical education profoundly changes lives. This is not just training for training's sake. We are talking about training for careers" said the Labor Department's Deputy Commissioner of Workforce Development.
Capital Region BOCES is currently teaching more than 1,200 high school students from across the region, as well as several hundred adult students, the skills necessary to find meaningful employment.
Senior Tucker Cherry, who attends the Automotive Youth Education Systems (AYES) program from the Niskayuna Central School District, was among the speakers on Wednesday and used his time to highlight how BOCES has helped him.
"I started attending BOCES because of my love for cars and I had a strong desire to learn how to fix them. BOCES has taught me so much, and the best thing they did was help me get a job at Capitaland Subaru as an Express Maintenance Technician," he said. "My job at Capitaland has allowed me put the skills I learned at BOCES to begin a career in the automotive industry."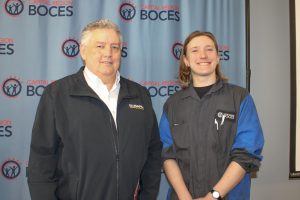 As operator of one of the largest workforce development centers in upstate New York and partner to more than 300 businesses, education and labors organizations, Capital Region BOCES takes seriously its role in equipping the next generation of workers with the essential skill sets needed to alleviate the critical shortage of skilled labor in this region and beyond.
Capitaland's May spoke about how thankful he was for Capital Region BOCES.
"BOCES education programs and recruitment events allowed us meet Tucker and (fellow senior) Octavia Rice. I'm glad we found them," said May.
Graduates of BOCES programs work in virtually all facets of the workforce—from nurse practitioners and physicians to machinists, entrepreneurs, diesel technicians, fashion designers, video game designers, electricians, chefs, service managers, dietitians and many, many more successful careers.
Watch highlights from our CTE Month celebration
Enroll in our Career & Technical Education programs
Recruitment for the 2023-24 school year is underway. Anyone interested in information on attending one of our more than two dozen programs should visit https://www.capitalregionboces.org/student-recruitment-underway-for-2023-24/.