In honor of national CTE Month, we are shining a spotlight on one of the 300 business partners that put our Career & Technical Education students in the fast lane for success – Capitaland Motors GMC-Subaru.
The Albany-area dealership serves on the BOCES Automotive Trades Advisory Board, hosts students for work-based learning and has been a valuable partner in not only preparing BOCES students for the future but giving them a start in their professional careers.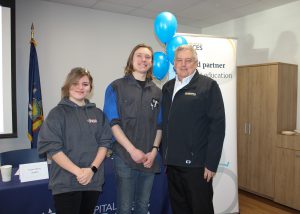 "The best thing that BOCES has done for me is land a job at Capitland Subaru through a job fair at CTE," said senior Tucker Cherry, of Niskayuna. Cherry plans to continue working at Capitaland while studying automotive technology in college.
Managing Program Coordinator-Business & Community Partnerships Nancy Liddle and Work-based Learning Coordinator James Haas both offered high praise for the work of Capitland with BOCES and our scholars.
"Capitaland has opened the doors for many of our scholars," said Liddle. "Our partnership with Capitaland continues to grow each year. We appreciate their commitment to CTE and willingness to mentor and train our scholars for future success."
"We have worked with (Service Manager William) Bill May and Capitaland Subaru for several years. They have always been excellent mentors for our automotive students," added Haas.
May said he values the partnership with BOCES because students come to his shop eager to learn and with a basic skill set.
"BOCES really develops young people into the technicians we need. The students we have gotten through the program have stayed with us. They are not jumping around. They know we took them in as fledglings and they are staying with us," said Bill May, service manager for Capitaland Motors.