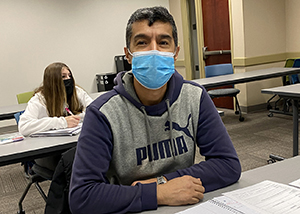 Zekriya Baz Mohammad went to high school in Kazakhstan and college in Russia.
After emigrating to the U.S. from Afghanistan more than a decade ago, Mohammad now has his sights set on attending college once again. To prepare for this next phase of learning, he has enrolled in our High School Equivalency (HSE) program.
"I have been in the U.S. for 15 years as a refugee. I realized over time that to get a good job, you need your degree. This program is a good opportunity to get my GED so that I can go to college," Mohammad said.
"It's important to get my diploma here because I can't go to college without it," he added.
Mohammad plans to enroll in community college locally to learn about heating, ventilation, air conditioning and refrigeration (HVAC/R) and then launch a career in the industry.
"I like to work with my hands and figure things out. I like to be active," he said.
Earn Your High School Diploma
Mohammad, who has practice learning in a number of languages—he speaks Farsi, Russian and English—said the High School Equivalency (HSE) program has been relatively easy.
"I have been in the program about a year and passed four of the five subjects. I just need to pass literacy," he said.
Teacher Frank Finch described Mohammad as a "wonderful" student who has a bright future.
Programs For Lifelong Learning
Mohammad is one of more than 100 students who enroll each year in our High School Equivalency (HSE) program.
Open to those 16 years of age or older, the program is taught by a certified teacher who works with students to overcome their challenges so they can successfully pass the exams necessary to earn a high school equivalency diploma.
The curriculum focuses on preparing students in five subjects: reading, writing, social studies, science and math.
"Our HSE program is about access and opportunity. To meet the needs of our adult learners, we hold classes at various times and in multiple locations throughout the Capital Region," said Maria Huntington, supervisor of Adult Education & Programming. "Our goal is help students earning a diploma so they can enter employment, post-secondary education or training opportunities."
Mohammad highly recommends the HSE program for others seeking a non-traditional pathway to success.
"BOCES is a good place and a good opportunity for those who need to advance themselves," Mohammad said.
Learn more about our High School Equivalency program and other opportunities available to adult learners.