January 2022 Commitment Award For Value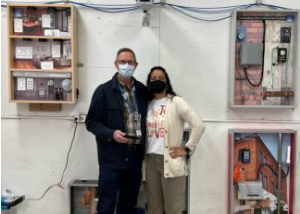 Ed Henson, a Network Cabling and Smart Home Technology teacher with our Career & Technical School, is the recipient of our January 2022 Commitment Award for Value.
Launched with the start of the 2019-20 school year, the Network Cabling Technician/Smart Home Technology program teaches students everything from network cabling using copper-based systems to applied systems integration. Ed has been the program's teacher since its beginning.
"From day one, Ed has given the program 110% of his time and energy. He works tirelessly with other staff and business partners to build, refine and adapt relevant and applicable curriculum to ensure students leave the program with the necessary skills to be immediately employable in this rapidly expanding field," wrote Director of Career & Technical Education Jeff Palmer in nominating Ed for this award.
Congratulations and thank you, Ed! 
The Commitment Awards were established to recognize employees who embody each commitment to a significant degree, and is one part of a three-tiered recognition program to build a culture of gratitude through acknowledgment and appreciation. Our Commitments — SERVICE, VALUE, EXCELLENCE, IMPROVEMENT, LEADERSHIP — embody what we do and who we are.