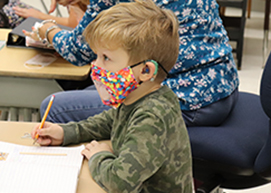 "It is confusing… just do your best and use your strategies," Speech Therapist Kate Munro said as she encouraged elementary-age students in our Deaf and Hard of Hearing (D/HH) program during a recent lesson on English grammar.
Learning to speak, read and write in English is challenging—both for those for whom English is a first language and those who are new to it. This is particularly true for individuals who are deaf or hard of hearing and whose first language is generally American Sign Language (ASL).
Often, students who are deaf and hard of hearing students are expected to develop their English literacy skills—a second language for most—using the same materials and approaches designed for hearing children. Unlike their hearing peers who have been immersed in spoken and written English language from birth, many D/HH students start to learn English as a second language once they begin school.
Teaching English to children who are deaf and hard of hearing is not as simple as tweaking a curriculum designed as "practice" for hearing children who enter school with a foundation in this language. For learners who are deaf and hard of hearing, English is a brand new language.
"ASL has its own grammatical structure and many of the words used in standard English speaking, writing and reading are 'extras' the students have never experienced and just don't use to communicate," explained teacher Cara Wolff.
Jump It Out, Clap It Out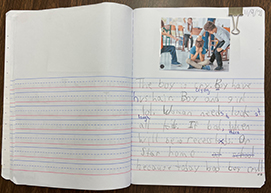 To help the young learners develop literacy skills in more meaningful ways, teachers in our elementary Deaf and Hard of Hearing (D/HH) program have begun using the Bedrock Literacy and Bilingual Grammar curriculum. Bedrock is a comprehensive language-learning curriculum designed to help students make good meaning from its elements and learn to use them independently to improve both their ASL and English language abilities.
In the classroom, this might look like:
Direct instruction on English as a language, its parts and how it works to create a solid foundation for learners. This includes lessons and practice with grammar, comprehension, new vocabulary, speaking, reading and writing;
Students using their own writing from daily journaling as a learning tool so the vocabulary and language they are learning is most meaningful to them.
Use of visuals to help students connect to print words (e.g., a picture of an apple along with the word "apple");
Multisensory approaches to learning about language and grammar. These include lip reading so students can see how words are being formed and which version of the word is being used; jumping and clapping out the part of a word; exaggerated pronunciation to help students learn the syllables, emphasis and sounds of words. These and other learning activities tap into the many ways students learn and help them truly understand the new language they are learning.
"This has been specifically designed for the deaf learner and for the deaf brain. We love it," said Wolff, "and the students love—and are learning well—with this, too."