Donation, resources to fuel creation of curriculum on repair and maintenance of electric and hybrid vehicles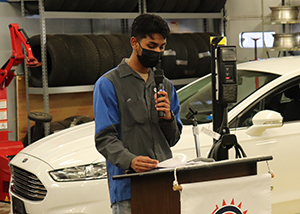 With New York State Education Commissioner Betty Rosa and Chancellor Dr. Lester Young on hand, officials with the New York Power Authority helped propel our Automotive Trades Technology program into the 21st Century.
A 2013 Ford Fusion hybrid vehicle, donated by the Power Authority during an event with automotive students and teachers at our Career & Technical School Albany campus, is part of a larger charitable act by the state that will lead to the creation of a curriculum on the repair and maintenance of electric and hybrid vehicles.
With this donation, "you are able to apply the knowledge and automotive skills you are learning and working into the future," said Rosa. "We are particularly proud that our students will have the knowledge, the skills and the opportunity to really make a difference not only for themselves, but for others."
"This shows the commitment that New York state has to ensure all of you young people in the state to go as far as your hard work and dreams will take you," Young added.
Preparing Students With The Skills For Success
In early September, Gov. Kathy Hochul signed into law legislation that effectively bans the sale of new internal combustion engine cars, off-road vehicles, light-duty trucks and equipment by 2035 and makes electric and "green" vehicles an essential mandate.
The New York State Energy Research and Development Authority (NYSERDA) is providing the funding for the development of the curriculum, which will help prepare students with the skills and knowledge to diagnose and repair hybrid vehicles. This curriculum is being developed by Capital Region BOCES  in conjunction with Orleans-Niagara and St. Lawrence-Lewis BOCES. 
Along with this, Capital Region BOCES' business partner, the DePaula Auto Group, has generously given an EV charging station to power the donated vehicle.
"I need technicians in the worst way. This donation allows students to learn using the same technology and equipment that my technicians use and prepares them to go to work with the skills they need to succeed," said Justin Dwyer, service manager for DePaula.
Supporting The Clean Energy Economy
District Superintendent Anita Murphy said she is proud BOCES is leading the way in developing a curriculum that will be used all across New York state.
New York Power Authority Vice President of Environmental Justice Lisa Payne Wansley echoed that sentiment, saying this will position students now and down the road for career opportunities.
"We want you to be at the forefront of participating in the clean energy economy and be at the forefront of getting those jobs that will emerge," Payne told the students.
High school senior Kishaun Sookdowar, who attends the Automotive Trades Technology program, thanked the state and business partners on behalf of the other students, saying the hybrid vehicle will give them the opportunity to further advance their knowledge in the growing field of hybrid and EV technologies. He said they will now be able to learn to repair and maintain such vehicles, and understand the "why" behind what they are doing.
"At Capital Region BOCES we strive not only for excellence, but also discipline in our practices," said Sookdowar. "Knowing why something is needed is what I believe to be most important in what we learn."
Learn How New York State is Helping Us Prepare Students for the 21st Century
Learn About Our Career & Technical Education Programs
The Automotive Trades Technology program is one of more than 40 programs offered on one of three campuses for high school students. Learn about the many courses available to through our Career & Technical School.