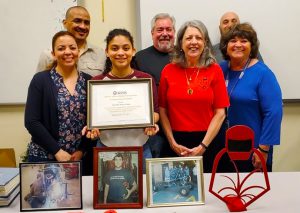 Darielys Maya, who chose to pursue welding as an artistic outlet, is the winner of the 2022 Evan M. Schwarz Helping Hand Memorial Scholarship.
Maya, a senior from the Guilderland Central School District, was awarded the $500 scholarship for her "enthusiasm for welding, motivation and hard work, which was evident in her scholarship essay," said Evan Schwarz' parents, John and Donna Marie, who present the scholarship to a welding student twice a year.
"Darielys exemplifies all of the characteristics that are required for this scholarship: motivation, enthusiasm for welding, commitment to excellence, hard work, leadership and professionalism," added Capital Region BOCES Business Liaison Nancy Liddle.
"I'm excited. I didn't see it coming. I'm feeling accomplished. It's a little push to help me get where I want to go," Maya said.
Maya plans to use the scholarship to purchase welding equipment she can use at home while furthering her education in the welding program at Hudson Valley Community College. She also plans to pursue a job as a welder at Greyhound.
"I have confidence in my skillset and I don't want welding to be something I just put in my back pocket. I would like welding to take me far in life," Maya said.
Maya said attending BOCES has given her a drive and passion and helped her academically.
"The welding program has benefited me in many ways. The program has taught me that in order to be successful in the shop, a certain level of professionalism, maturity and independence is required. Also, I have learned to have the courage to ask questions. The shop is a 'no judgment zone' and everyone simply wants to help you grow as an individual," she said.
Maya said BOCES, and specifically the welding program, is a great opportunity for all students.
"There's nothing bad about having welding skills and it can set you up well professionally," she said.
The Evan M. Schwarz award was established in 2011 to honor Evan Schwarz, who studied welding at Capital Region BOCES while a Burnt Hills-Ballston Lake High School junior and senior. Schwartz earned straight A's in the welding program and has been described by his former teacher, Mike Todd, as "highly motivated, artistic and caring — just the type of student you'd want to have in your classroom." After graduation in 2006, Evan worked at the former Super Steel plant in Schenectady and earned membership in the ironworkers union.