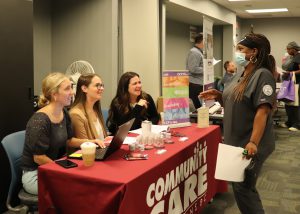 More than 100 Adult Practical Nursing (APN) students met recently with healthcare providers seeking to hire skilled workers at a career fair hosted by Capital Region BOCES. 
"The industry is in need of workers and we have some fantastic students and future nurses looking for jobs right now, so this was a win-win for everybody," said Paula Negri, principal of our Health Careers Center.
According to the U.S. Bureau of Labor Statistics, demand for Licensed Practical Nurses (LPNs) is forecast to grow 9% over the next few years.
Adult Practical Nursing student Wilvan Piquero was among those hoping to find a job at the fair.
"My mother, Evangeline, is a role model to me and she is a nurse. I also like to help people out. My goal is to work as an LPN for a while, go to school to become an RN and eventually retire as a school nurse," Piquero said.
Area Employers Meet Future Nurses
Representatives of 30+ nursing homes, urgent care providers, hospitals and other organizations met at the May 25 event with those who will soon be graduating from our Adult Practical Nursing (APN) program. Among them was Human Resource Director Makenzie Moore with Riverside Center Rehabilitation and Nursing.
"I went to BOCES myself, so this really hits home for me" said Moore. "I know a few people who are currently students. I wanted to be at the [career fair] to help people achieve."
Thank you to the following organizations who participated in this year's nursing career fair:
Accucare Home Health
Albany Med
Baptist Health Nursing and Rehabilitation Center
Bassett Healthcare
Capital Cardiology Associates
Catholic Charities Disabilities Services
Center for Disability Services
Center for Family Practice
City of Albany, Department of Youth and Workforce Services
Community Care Physicians
Conifer Park
Daughters of Sarah
Ellis Medicine
Fulton Center
Hudson Park Rehabilitation and Nursing Center
Ingersoll Place Assisted Living
Kingsway Community
Marjorie Doyle Rockwell Center
Marquis Certified Home Care
Nathan Littauer Hospital
New York State Department of Labor
Peregrine Senior Living
Rensselaer County ARC
River Ridge Living Center
Riverside Center Rehabilitation and Nursing
Saratoga Hospital Medical Group
Schenectady ARC
Shaker Place Rehabilitation and Nursing Center
St. Mary's Healthcare – Amsterdam
St. Peter's Health Partners
Teresian House
The Addictions Care Center of Albany
The Grand Healthcare System
The Home of the Good Shepherd
Troy Center for Rehab and Nursing
Van Rensselaer Manor Nursing and Rehab Facility
Warren, Washington and Albany ARC
Wellnow Urgent Care
Whitney Young Health