April 2022 Commitment Award For Leadership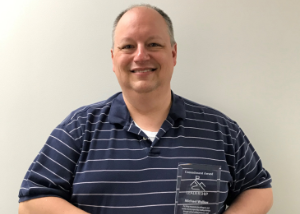 Michael Walker, a program coordinator with our Health, Safety and Risk Management team, has received the April 2022 Commitment Award for Leadership
In nominating Walker for this award, Managing Program Coordinator for Health, Safety and Risk Hilary Hofstein had this to say:
"Mike joined the Health, Safety and Risk Management team in 2019. In the course of his daily work, Mike provides occupational health and safety support to school districts. In addition to this role, as a certified Code Enforcement Official, Mike conducts inspections in school districts when fire inspection season rolls around. Taking on the inspection duties during fire safety season, along with his normal health and safety assignments, is challenging but Mike showed success in meeting both responsibilities.
Mike's efforts in providing safety consultation to schools this year has been much appreciated but what stands out to me is his leadership in guiding the fire inspection service.
During this fire safety season, Mike was instrumental in onboarding and mentoring a new Code Enforcement Official to the service. Mike took on these additional duties himself. He offered opportunities for practice inspections, made himself readily available for questions and shared his experience and knowledge with the new inspector.
I have also received feedback from school district personnel who appreciate Mike's building and fire code knowledge. For example, Mike serves as a fire inspector for Schenectady City School District. The Facilities Director does not hesitate to reach out to Mike whenever he has a question regard code or fire safety. The feedback from the district is that Mike is readily available and they value his experience.
Mike is also the go-to person on the Health, Safety and Risk Management team for fire safety and building code questions. And just as for districts, Mike gets back to the team quickly with answers when we need them. This benefits every single one of our clients.
Mike has also shown leadership in that he brings up a number of ideas on how to augment and improve the inspection service. These efforts are significant to our service, and very much appreciated."
Congratulations and thank you for all you do, Mike! 
The Commitment Awards were established to recognize employees who embody each commitment to a significant degree, and is one part of a three-tiered recognition program to build a culture of gratitude through acknowledgment and appreciation. Our Commitments — SERVICE, VALUE, EXCELLENCE, IMPROVEMENT, LEADERSHIP — embody what we do and who we are.