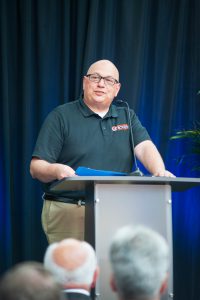 Capital Region BOCES was proud to join national, state, and local leaders on Monday, June 12  in announcing the first-of-its-kind Career Opportunity Hub.
Senior Executive Officer, Joseph P. Dragone joined a veritable "who's who" of dignitaries on June 12 at the Albany Nanotech Complex to unveil the Career Opportunity Hub, which utilizes a broad range of programs and support structures to build the region's tech talent pipeline.
Career Opportunity Hubs are part of the National Institute for Innovation and Technology's (NIIT) larger, nationwide strategy to grow the workforce in tech-based industries. The strategy helps to ensure the entire education system provides a skills-based pathway to careers and "learn and earn" opportunities through innovative Registered Apprenticeships.
U.S. Senate Majority Leader Charles E. Schumer heralded the Hub as "one of the key ways we can make sure that a lot of the thousands and thousands of jobs that will occur in the tech industry are filled right here in Upstate New York."
Dragone said the Hub "will open up pathway opportunities for young adults right here in the region and beyond."
Joining Dragone and Schumer at the event were Mike Russo, President and CEO of NIIT, U.S. Representative Paul D. Tonko., PlugPower CEO Andy Marsh, Brent Parton, Acting Assistant Secretary, Employment and Training Administration at the U.S. Department of Labor, Daniel McCoy, Albany County Executive, Mark Eagan, President and CEO of the Capital Region Chamber and David Anderson, President, NY CREATES and the Albany Nanotech Complex.
Key initiatives of the Career Opportunity Hub include:
New opportunities through the National Talent Hub, a state-of-the-art career portal that aligns jobseeker qualifications, academic curriculums, and in-demand skills from the industry in real-time. All Capital Region BOCES students will be able to create National Talent Hub profiles free of cost, allowing them to receive credit for prior learning and apply it to NIIT.
Registered Apprenticeship Programs (RAPs) with participating employers, thus creating a seamless apprenticeship pathway from education to career.
Establishing the nation's first semiconductor-specific Registered Apprenticeship Program (RAP) within a world-leading semiconductor Research and Development, Innovation, and Commercialization facility for advanced digital, analog, and power technologies. NY CREATES employees, who operate and maintain the state-of-the-art research lab at the Albany Nanotech Complex will participate in the NIIT's Growing Apprenticeships in Nanotechnology and Semiconductors (GAINS) program. GAINS provides individuals the ability to learn on the job while building experience and skills through working with industry partners. GAINS is implemented through an exclusive U.S. Department of Labor contract and designed to meet the workforce demands of the semiconductor and nanotechnology-related fields.
Substantial increases in RAP participation by prominent tech companies. Under the NIIT GAINS program, GlobalFoundries, who pioneered the first GAINS program and just graduated their first apprentices under the program, Applied Materials and PlugPower will expand innovative, competency-based programs to offer a wider range of training opportunities for jobseekers and incumbent workers and create an expanded talent pool for employers.
A new NIIT employer partnership program that incentivizes companies to invest in building the regional talent pipeline by equipping jobseekers with foundational and transferable skills for advanced manufacturing and nanotechnology-related fields. Under the program, employers who invest in attracting and training employees that choose to move to other companies can be compensated for their efforts.
"Through collaboration with our partners in education, industry, and government, we are providing the Capital Region of New York with the tools and resources necessary to engage a broader population and create an integrated pathway to high-value careers in strategic industries," said Mike Russo, President and CEO of NIIT. "These innovative Registered Apprenticeship Programs will build a strong tech ecosystem that will not only bolster the local economy but also contribute to national security and our global competitiveness."
Russo said connecting the entire education system, K-12 schools through BOCES along with higher education, is integral to the success of the hub.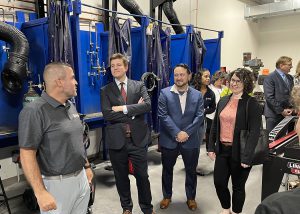 Tonko told the standing-room-only press conference that BOCES participation in the hub is pivotal.
"BOCES serves 84,000 students who will now have access to resources that will help them pursue life-changing apprenticeships and careers," he said.
Following the press conference and a luncheon at PlugPower, Dragone and Career and Technical Education Director Jeff Palmer welcomed the dignitaries to the Career and Technical Education Center – Albany Campus. Opened in August, the 167,000-square-foot campus is one of the largest workforce development centers in Upstate New York
Dragone said the opportunity to be a part of the Career Hub will expand beyond the walls of BOCES to every student in the region and even the state.
He credited BOCES's more than 300 business, labor and education partners with being an integral part of the success of the new offerings.
"The opportunities we provide children and young adults and the reason we do so well in building the workforce and expanding opportunities is because of the commitment of our partners," Dragone said.