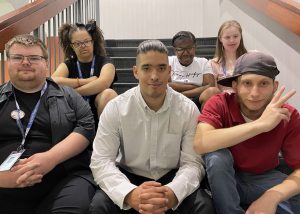 Students in our Work-Based Learning program recently celebrated a successful end to their high school career during a ceremony attended by proud family, teachers and friends of the program.
Many of the exiting students have been in our programs for years. One of their success stories was told by student Jakob Winters in a speech during the ceremony.
"It has been an honor to be in the BOCES programs," said Winters. "All the job sites and classes I have been in were amazing."
"I started attending BOCES in kindergarten with Mrs. Katie DiPierro. In the 3 years I spent in Mrs. Katie's class I made some great friends. I then moved on and went on to attend class with Mrs. Denman and Mrs. Bowman. Then I was fortunate to get the opportunity to go to Mr. Pierce's [Work-Based Learning program.] Here I learned many valuable lessons over the past six years. BOCES has provided me the opportunity to be successful despite my diagnosis of autism," Winters continued.
"Throughout all these years and in all the different BOCES programs I've been in, it's great to reconnect with old friends and make new ones too. My goal is still to work as a personal trainer, but I have learned sometimes I have to start somewhere different than I thought I would. But I know I will not give up on my dreams and my goals. Thank you all for preparing me and helping me to reach my goals and dreams."
Congratulations to our Work-Based Learning program students and grads — we can't wait to learn what you do next!
Learn About The Work-Based Learning Program
The Work-Based Learning program is designed to help 18 -21 year old students learn how to work well, be employable, independent and successful, and to give back to their community. Learn more about Work-Based Learning program.