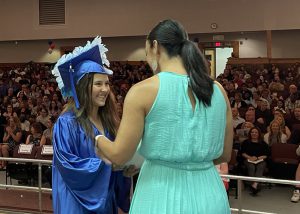 Ariana Valle is on a mission. The member of Capital Region BOCES Cosmetology Class of 2022 will attend the University of Central Florida this fall in pursuit of a degree in business administration, a degree she plans to pair with her BOCES education to open her own business.
"I want to open my own salon and getting a degree in business combined with what I have learned at BOCES will help me do that and be successful," said Valle.
The Shenendehowa High School senior said BOCES has prepared her well for college and her future and has broadened her horizons with diverse skills.
"At BOCES, we learn to work on each other with all different skin tones and hair textures—curly and fine, and we are able to fully do make up on and style the hair of all different types of people when we graduate," Valle said.
She also credits BOCES with providing her with confidence and strength.
"The teachers are great and incorporate everyone into their learning and (Principal Shelette) Ms. Pleat is someone we all look up to. We call it 'girl bossing' and she is constantly in the classroom, not just sitting in her office, and she is always talking with us. It helps us," Valle said.
"I have had the highest self-confidence since coming to BOCES," she added.
Teachers had similar praise.
Teacher Mollie Daley praised Valle for an "exceptional work ethic and commitment to future success."
Valle said her BOCES education has been all about building a future, not just getting an education.
"We don't call it school, we call it work. Our grade is our paycheck," Valle said.