Career & Technical Education students are on a fast track on their future thanks to BOCES' partnership with Bryant & Stratton College.
Through the Jump Start program at Bryant & Stratton, high school seniors can take a weekly class and earn college credits that can be used as a full-time Bryant & Stratton student or transferred.
Several current students on the Career & Technical Education – Schoharie Campus are currently enrolled in the college program, taking a psychology course and earning college credits, including Cosmetology program students Dezirae Yowell and Allison Bates and Criminal Justice student Rhiannon Islip.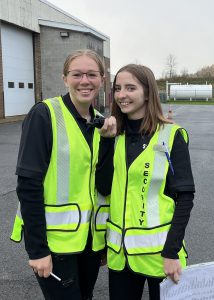 "It is so helpful to be able to get a head start on college and get an internship and know what I am doing," said Bates, who attends BOCES from Berne-Knox-Westerlo High School.
"Literally, just a month before I started the Jump Start program, I was freaking out about what I was going to do in the future. Now I have a goal and set plan thanks to BOCES," added Yowell, as she and Bates worked on mannequins in a cosmetology lab.
Business Liaison Nancy Liddle said several students have been eager to enroll in the program.
"They buy the books and make sure they are taking the classes and doing the work," she said.
Islip said she appreciates the opportunity to get a head start on college and get a better understanding of what learning in college is like.
"I really like that through Jump Start I got to go to the college, meet the people a get a feel for the college, and of course, you get to earn credits that gives you a head start on college," said the aspiring forensic psychologist.