New York State Labor Commissioner Roberta Reardon met with students from across the region on Tuesday as she toured the new Capital Region BOCES Career & Technical Education Center – Albany Campus.
Calling the campus – and the education students receive there – "the future of New York state," the commissioner spent more than an hour touring the Career & Technical Education Center, talking with students about their futures and learning about the workforce development and education opportunities Capital Region BOCES offers.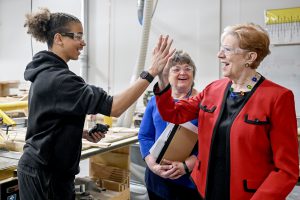 Opened in August, the 167,000-square-foot Career & Technical Education Center – Albany Campus is one of the largest workforce development centers in Upstate New York. BOCES partners with more than 300 businesses, education and labor organizations to provide educational opportunities in 29 different programs on the campus, as well as the Schoharie Campus, to more than 1,200 high school students, as well as hundreds of adults. Offerings include training in everything from welding to nursing and video game design to automotive trades.
"These young people are getting such great training and such great opportunities," Reardon said. "They are being exposed to so much wonderful learning. You can feel the excitement in the hallways and in the classrooms and with the teachers. I am thrilled; I want more of this."
Led on the tour by Capital Region BOCES Senior Executive Officer Joseph P. Dragone, Ph.D., the commissioner met with faculty members and students – including Jocelyn Soto, a Culinary Arts student from Bethlehem; David Kusisto, a Diesel Tech student from Ravena-Coeymans-Selkirk (RCS); Elijah Edwards, a Building Trades student from Schenectady; and Jayden Holl, a Heating, Ventilation, Air Conditioning and Refrigeration (HVAC/R) student from RCS.
Holl told the commissioner that his HVAC/R training gives him many options as he looks towards his future.
"No matter what I do, HVAC is the ultimate backup plan. With refrigeration heating and cooling skills, I will always be needed; I will always have a job," he said.
Reardon also spoke with Riley Trudell, a Manufacturing student from Shenendehowa; Chloe Armstrong, a Welding student from Schoharie; Nate Froehlich, an Electrical Trades student Niskayuna; Jacob Gilmore, a Two-Year Sequence of Health Careers student from Burnt Hills-Ballston Lake; and Allen Reome Jr., a Criminal Justice student Shenendehowa.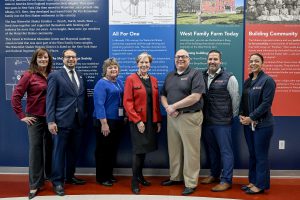 "These young people are the future," said Reardon. "They want to learn with their hands, and they are excited by the opportunities they have."
Dragone thanked the commissioner for her interest in BOCES.
"We are honored to have Commissioner Reardon visit our Career & Technical Education Center today and meet with our talented students. We enjoyed showing her the programs and opportunities we provide our students and showcasing the hard work and dedication of our staff and, most importantly, our students – who represent the future of New York state," Dragone said.