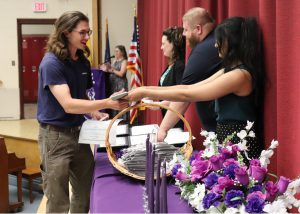 One hundred and six Career & Technical School students were recently inducted into the National Technical Honor Society (NTHS), 10 of whom were recognized for being in the society for a second year.
Those honored come from a cross section of our Career & Technical Education programs, from welding, heating and criminal justice to the New Visions Health Careers and New Visions Law and Government.
To be honored, students had to meet several criteria, including earning grade point averages (GPA) of 92 or greater at Career & Tech and an overall GPA of 85 or greater at their high schools, as well as having five or fewer absences.
"I'm in awe of what you have accomplished," said Jeff Palmer, director of Career & Technical Education. "You have proven that you have the right stuff, that you are the right workers employers are seeking."  
Congratulations 2022 National Technical Honor Society Inductees
Albany Campus
Aftab Abzal, Schenectady City, Electrical Trades 2 – Second year member
Zaid Akari, Schenectady, Electrical Trades 2 – Second year member
George Allard, IV, Scotia-Glenville, Electrical Trades 1
Ryan Austin, South Colonie, Electrical Trades 1
Justin Balboni, Shenendehowa, Electrical Trades 1
Daniel Baughn, Watervliet, Building Trades 2 – Second year member
Tresha Behari, Guilderland, Criminal Justice 2  – Second year member
John Brown, Scotia-Glenville, HVACR 1
Emily Burdikoff, Burnt Hills-Ballston Lake, Digital Media Design 1
Cole Cepiel, Cohoes, Criminal Justice 2  – Second year member
Luke DaBiere, Shenendehowa, Auto Body 1 Refinishing
Brianna Dasrat,  Schenectady, Nurse Assistant 2
Matthew DeCelle, Cohoes City, Auto Trades 2-AYES
Thomas DeJoy, Mohonasen, Electrical Trades 2
Rayne DiPietro, Scotia-Glenville, Criminal Justice 2 – Second year member
Riley Ertelt, Guilderland, Digital Media Design 1
Jayden Fogarty, Shenendehowa  Welding and Metal Fabrication 2
Nikolas Freihofer, Bethlehem, Digital Media Design 2
Adriana Galasso, Cohoes, Nurse Assistant 1
Jameson Gregoire, Cohoes, Criminal Justice 2
Jocelyn Howe, Mohonasen, Global Fashion Studies 1
Sa-id Jones, Mohonasen , Electrical Trades 1
Conor Keefe, Cohoes, Digital Media Design 2
Jonathan Kempadoo, Schenectady, Auto Trades 2-AYES
Braeden Kennedy, Guilderland, Electrical Trades 1
Jake Knight, Burnt Hills-Ballston Lake,  Electrical Trades 1
Tyler Lischak, Ravena-Coeymans-Selkirk, Electrical Trades
Emma Litzner, Niskayuna, Nurse Assistant 1
Jennifer Marra, Ravena-Coeymans-Selkirk, Culinary Arts
Aidan Martin, Burnt Hills-Ballston Lake, Electrical Trades  – Second year member
Jeremy Mayville, Cohoes, Diesel Tech 2
Michael McLeod,  Scotia-Glenville, Building Trades 2
Ashley Monroe, Mohonasen, Nurse Assistant 1
Zachary O'Connor, South Colonie, Welding and Metal Fabrication 1
Ryan O'Keefe, Guilderland, Electrical Trades 2  – Second year member
Everett Paige, Schenectady, Network Cabling Tech-Smart Home Tech 1
Christopher Piccini, Voorheesville, Welding and Metal Fabrication 2  – Second year member
Jake Porter, Ravena-Coeymans-Selkirk, Building Trades 1
Zachary Provost, Mohonasen, Electrical Trades 2
Phillip Ramos, Shenendehowa, Auto Body 1 Refinishing
Brandon Rowe, Schenectady, Building Trades 2
Ashley Santibanez, Niskayuna, Criminal Justice 1
Cody Sherwood, Middleburgh, Network Cabling Tech-Smart Home
Logan Soto, Shenendehowa,  Criminal Justice 2
Kira St. Andrew, Cohoes, Network Cabling Tech-Smart Home Tech 1
Vinh-Sang Tran, Niskayuna, Electrical Trades 2
Cora Tribunella, Scotia-Glenville, Building Trades 2  – Second year member
Isabel Tribunella, Scotia-Glenville, Building Trades 2  – Second year member
Michael Trichilo, Guilderland, Electrical Trades 2  – Second year member
Morgan Vanderstad, Scotia-Glenville, Criminal Justice 1
Ruger VanWie, Bethlehem, Welding and Metal Fabrication 1
Brianna Venditti, Burnt Hills-Ballston Lake, Nurse Assistant 1
Elise Waller, Burnt Hills-Ballston Lake, Nurse Assistant 1
Kelly Westervelt, Shenendehowa, Global Fashion Studies  – Second year member  
Emily Willoughby, Niskayuna, Cosmetology 2  – Second year member
 
Center for Advanced Technology
Justice Amos, Schoharie, Game Design and Implementation 2
Caitlin Atkinson, Cobleskill-Richmondville, Manufacturing and Machining Tech 2
Matthew Burns, Ravena-Coeymans-Selkirk, Game Design and Implementation 1
Jacob Came, Cohoes, Game Design and Implementation 2
Zachary Casso, Shenendehowa, Game Design and Implementation 1
Griffin Elmore, Guilderland,  Game Design and Implementation 1
Emily Hainey, Middleburgh, Sterile Processing Tech 1
Isabella Haley, Schoharie, Entertainment Technology 2
Chloe Hollner-Turner,  Cohoes, Entertainment Technology 2
Alexander Howell, Duanesburg, Welding and Metal Fabrication 2 – Second year member
William Kruk, Schalmont, Game Design and Implementation 2 – Second year member
Joseph Lawyer, Schoharie, Sterile Processing 2
Tyler Moshier, Shenendehowa, Game Design and Implementation 2 – Second year member
Matthew Peck, Berne-Knox-Westerlo, Game Design and Implementation
Carter Raffan, Schenectady, Game Design and Implementation 2
Christopher Raffan, Schenectady,  Game Design and Implementation  
Andrew Rice, Mohonasen, Game Design and Implementation 2
Haley Titus, Schoharie, Welding and Metal Fabrication 1 
Mabel Yauchler, Shenendehowa, Entertainment Technology 2
 
New Visions: Health Careers (Ellis Hospital and St. Peter's)
Marley DeConno, Burnt Hills-Ballston Lake, Ellis Hospital Campus
Isabella Getter, Scotia-Glenville, Bevan
Emma Herron, Scotia-Glenville, Bevan
Nehla Ismail, Guilderland, St. Peter's Hospital 
Rhiannon Lara, Burnt Hills-Ballston Lake, Ellis Hospital
Allison Lawson, Berne-Knox-Westerlo, St. Peter's Hospital
Jessica Lawson, Niskayuna, Ellis Hospital
Adrianna Murray, Scotia-Glenville, Ellis Hospital
Morgan Nichter, Scotia-Glenville, Ellis Hospital
Cameryn Shultes, Middleburgh, St. Peter's Hospital 
Avery Sommo, Guilderland, St. Peter's Hospital
Abigail Thomas, Niskayuna, Ellis Hospital 
Julianna Tourangeau, Ravena-Coeymans-Selkirk, St. Peter's Hospital
Rayann Williams, Schenectady, Ellis Hospital
 
Schoharie Campus
Hali Abeling, Sharon Springs, Nurse Assistant 2 – Second year member
Jason Basle, Berne-Knox-Westerlo, Criminal Justice 1
Britney Beisly, Schoharie, Nurse Assistant 2 – Second year member
Lyndsy Bilby,  Cobleskill-Richmondville, Nurse Assistant 1
Jeffrey Caron, Berne-Knox-Westerlo, Criminal Justice 1
Hailey Chase, Berne-Knox-Westerlo, Culinary Arts 1
Ashley Fahd, Berne-Knox-Westerlo, Criminal Justice 2 – Second year member
Ellise Hunt, Middleburgh, Cosmetology 2
Rhiannon Islip, Sharon Springs, Criminal Justice 1
Haily Lawrence, Duanesburg, Culinary Arts
Joshua Mitchell, Schoharie, Criminal Justice 1
Kirsten Moran, Schalmont, Criminal Justice 1
Brenden Parrotti, Sharon Springs, Criminal Justice 1
Emily Porter, Middleburgh, Nurse Assistant 2  – Second year member
Sharaya VanWormer, Cobleskill-Richmondville, Criminal Justice 2
Mason Welch, Duanesburg, Criminal Justice 1
Madison Westerman, Sharon Springs, Criminal Justice 1
Jordan Woods, Adult Student, Cosmetology 2