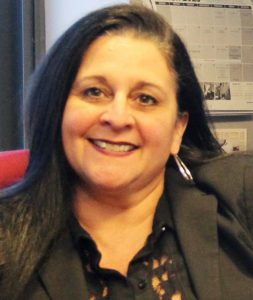 Anita Murphy, Capital Region BOCES' district superintendent, is the 2022 recipient of the National School Public Relations Association's (NSPRA) Bob Grossman Leadership in School Communications Award for outstanding leadership.
Murphy, who was selected from a pool of school leaders from across the United States, will be presented with this award on July 19, 2022 during the annual National School Public Relations Association (NSPRA) conference in Chicago.
Murphy is the first school district superintendent in New York to win this award.
"I am extremely humbled by this award and share in this honor with the dedicated team of school communicators and support professionals I have the privilege of working with–and learning from–each day," Murphy said. "Considerable thanks are also due to the other members of our administrative team, our colleagues across our BOCES, the Capital Region BOCES Board of Education, and my peers and collaborators who lead our 24 component school districts."
Murphy, who was appointed District Superintendent of Capital Region BOCES in 2017, has had a long, successful career as an educational leader. Prior to joining BOCES, Murphy was superintendent of the Altmar-Parish-Williamstown Central School District in Central New York. A former teacher in Binghamton, Murphy also served as deputy superintendent in both the Rochester City and Syracuse City Schools and the director of instruction in the Albany City Schools, as well as an associate commissioner of the New York State Education Department.
Since joining BOCES, Murphy has focused on state-level responsibilities, such as assisting the New York state education commissioner with implementing statewide initiatives, overseeing the administration of state grants and working with the regional information centers on data warehousing, testing and regional planning. These efforts have been crucial to the success of students in districts in rural, suburban and urban settings.
She has been instrumental in growing the Capital Region BOCES' communication service, which helps school leaders build trust and credibility with their publics through a planned and strategic method of two-way communication aligned with district goals and priorities. Murphy works closely with the Director of Communications and Public Relations, Adrienne Leon, APR, who serves on the BOCES senior cabinet to ensure that communications efforts align with the BOCES' strategic plan.
Murphy is also credited with her leadership of the 24 school districts in the Capital Region BOCES component region during the COVID-19 pandemic.
"Anita recognized communications as a key element of crisis response, helping me and my colleagues throughout the region provide clear and consistent messaging, consequently providing the families of more than 80,000 students across the region with a firm sense of security during a very uncertain time," said Dr. L. Oliver Robinson, Superintendent of Schools for the Shenendehowa Central School District. "Through Anita's leadership and approach to communications, a true sense of regional community has been fostered. She has changed the way we do business in New York's Capital Region for the better."
"The award selection committee was impressed with Superintendent Murphy's commitment to ensuring that strategic and effective communications are a top priority for the Capital Region BOCES," said NSPRA Executive Director Barbara M. Hunter, APR. "We're proud to recognize Superintendent Murphy for being a proponent of open and transparent communication, and for integrating communication into the BOCES' decision-making processes."
Named in memory of Robert L. Grossman, ASPR, the National School Public Relations Association's (NSPRA) Bob Grossman Leadership in School Communications Award is given to a school district leader who displays outstanding leadership in public relations and communication. Grossman, an NSPRA past president, believed that the support and commitment of our top education leaders is vital to successful school communication. To learn more about the award, visit www.nspra.org/grossman.