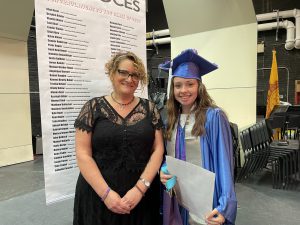 A Capital Region BOCES Career and Technical School graduate with a passion for helping others and a drive for a career in fashion is the recipient of The William Kress Memorial Humanitarian Award 2022.
Kelly Westervelt, a Global Fashion program graduate, was presented the scholarship recently by Diane Ogren, guidance secretary at the Career and Technical School Albany Campus.
Ogren is the mother of William Kress, a 2015 graduate of the Culinary program. The award is presented annually to a Capital Region BOCES student who is supportive to friends and acquaintances who need someone to listen to in tough times and someone who is kind and loving.
"I chose Kelly for this award because she is always willing to assist fellow students with understanding tasks for which they are having a difficult time. No matter the circumstance, Kelly has always exhibited a positive attitude and work ethic," said Ogren.
As evidence of Westervelt's giving nature, Ogren cited the teens decision to make and donated to first responders more than 1,000 masks at the onset of the COVID-19 pandemic.
Westervelt, who attended BOCES from the Shenendehowa schools, will attend Montclair State University in New Jersey where she will study fashion and play field hockey.
She aspires to a career as a designer "at a major firm like Nike or Michael Kors."
Westervelt said her time at BOCES has been life changing.
"Without BOCES I don't know where I would be and what I would be majoring in next year or even what school I would be going to," she said. "I don't know where I would be without having attended the career and technical school."