As you explore the new site, you'll notice it has a more contemporary look and feel with our updated logo, branding and colors. Given its mobile-friendly design, it should look great whether you're using a desktop computer, phone or tablet.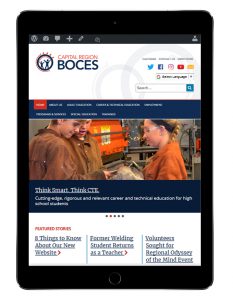 But that's not all. Content has been been reorganized with usability in mind so the information you're searching for may no longer be in the same location you previously found it.
To that end, here is some information that will help you understand the changes and better navigate the new site.  
Content is organized intuitively based on topic. 

You shouldn't have to know our organizational chart or educational-jargon to find what you need. Check out our consolidated and streamlined navigation at the top of every page. 

There's less emphasis on news and more focus on content that will stay relevant over time. Watch for more targeted use of social media, e-newsletters, video, print publications and traditional media to help tell our stories and get the word out about all the important work we do to support our public schools and the students they serve.
Streamlined directory of programs and services. It should be easier for districts to quickly see the range of nearly 300 programs and services we offer, along with the pricing and contact information needed to make an informed decision.  
A user-friendly platform for all. We serve a significant population of people with disabilities and people who are English language learners. That's why the new website features Google Translate in the upper left corner of every page. We also made a commitment to website accessibility to meet the needs of people who have visual, auditory or other impairments.
Easier to find content for adult students. Adults interested in continuing their education can now find a section devoted to their needs. Visit the new Adult Education homepage to search available 

courses and programs, including our popular Adult Practical Nursing Program and Test of Essential Academic Skills (TEAS) exam. 

 

The Faces of Career and Technical Education. A new feature area highlights what students and alumni say make our career and technical programs special.
Easily search for staff. Visit our searchable staff directory featuring employee contact information and photos so you can finally put a face with a name. 
Consolidated training content

. Search for all upcoming 

learning opportunities organization-wide on Frontline Education. The external site is accessible from a single training page instead of being spread out on many pages throughout the site. 
Please note: Information for retirees is now accessible from the homepage of https://bert.capregboces.org. 
If you need help finding anything, please try using the Search feature or contact Audrey Hendricks at 518-464-3954 or audrey.hendricks@neric.org. If you have trouble accessing any files, please notify us of the issue. 
Stay tuned for an update to the Northeastern Regional Information Center Website.