Kayla Murphy Now a Paul Mitchell Educator 
Taking the right courses in high school can pay off big in the "real world."
Just ask 2006 Scotia-Glenville High School and Capital Region BOCES CTE cosmetology graduate Kayla Murphy, who travels the country sharing her passion and knowledge of the beauty industry.  
As a Paul Mitchell national educator, Murphy talks about and demonstrates the latest cosmetology industry trends, products and the like for hair stylists, salon owners and trade show attendees.
Inspiring the next generation of cosmetologists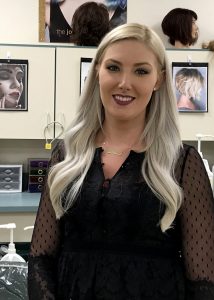 Murphy recently joined students on campus to talk about the industry and her career prep.    
"Attending Capital Region BOCES taught me the fundamentals and essentials I needed to not only get into the industry, but have an advantage," Murphy said.
She talked about the benefits of learning career skills in high school—from interviewing for a job to creating a business plan.
"You have a wonderful opportunity here to learn how to be a cosmetologist and how to work in a salon without piling up debt," she said to the students. "Make sure you take advantage of the opportunity."