February 2021 Commitment Award For Excellence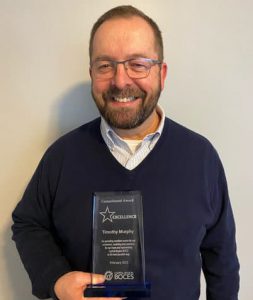 Tim Murphy, program coordinator II with our Health, Safety & Risk Management team, is the recipient of our commitment award for excellence. 
"Tim is an experienced member of the Health, Safety & Risk team with 15 years of experience providing occupational health and safety consultation to school districts," said his supervisor, Hilary Hofstein. "He is well thought of and respected by the school district personnel with which he works from facilities staff to superintendents."
Caring For The People He Serves
Tim demonstrates the quality of his work in a number of ways but the aspects that stand out the most are his caring for the people he serves, the way he uses his understanding of district priorities to be of the most help and taking initiative to develop guidance for districts before they even realize they may need it.
One of Tim's recent efforts effectively shows the excellence of his work and how he looks out for the best interests of Capital Region BOCES and our clients.
This past January, prior to the Presidential Inauguration where community tensions and the potential for violence were high nationwide, Tim took the initiative to develop thoughtful guidance for schools to address potential impacts they may face. His proactive advice on how to address the situation were pertinent, feasible and common sense. Tim addressed the serious security concerns but also pointed out what was most likely to occur so that schools could prepare. Most importantly, he delivered the message in a relatable and calm manner, which is incredibly important when discussing school safety issues that may be emotionally charged.
A Team Player
Tim is a team player. He shared his ideas with the Health, Safety & Risk team so that they could pass it on to other subscribers to the service. The response to Tim's excellent work was broad. In the superintendents meeting at BOCES, Marie Wiles (Guilderland CSD) and Lori Caplan (Watervliet CSD) both sung his praises and expressed appreciation for his guidance. Moreover, this was not the first time that Tim's work was complimented at the superintendent's level. He consistently offers this level of service.