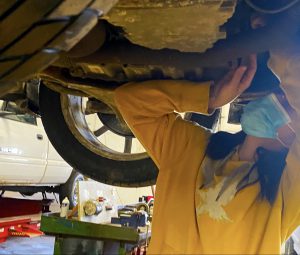 Throughout March, in honor of International Women's Month we are shining a spotlight on women in the trades who are challenging stereotypes and building solid futures through their education at Capital Region BOCES.
A Cobleskill teen is revving up for a solid career while tuning up her knowledge of automobile engine repair at Capital Region BOCES.
Kiersten Acer is a senior in the Automotive Trades Technology program at the Career and Technical School, Schoharie Campus.
"I chose the auto program because my father is a mechanic at Oneonta Ford, and I have been helping him at home working on cars since I was 10," the teen said.
While she pursued an education in automobile repair at BOCES  to follow in her father's footsteps, Acer said her real passion is in construction and she plans to find work in that industry upon graduation using skills she has learned in the automotive lab.
"Knowing how to repair cars and trucks may help me get my foot in the door," she said.
While her career trajectory will take her from working with cylinder blocks to concrete blocks, Acer is quick to note that her time at BOCES has been "great."
"We get our work done and we learn a lot; but it's a fun environment and we all help each other," she said.
While Acer is one of a handful of women enrolled in the 88-student Auto Trades program on the Schoharie and Albany campuses, it is friendships that have helped her to stay focused on her future.
"I could have gotten out of school early at Cobleskill, but I had to drop BOCES to do that, so I thought about it, and my classmates convinced me to stay because I have come so far and learned so much," she said.
Recruitment Now Underway for 2022-23
Interested in earning skills for one of today's in-demand careers? Want to do it your own way? Students in our component districts are encouraged to explore our Career and Technical School and its 40+ offerings.