Students, staff and others represent the organization during Lobby Day
From an aspiring personal trainer to a fashion designer, state legislators heard directly from Capital Region BOCES students about their variety of learning experiences.
"I couldn't be more proud of our staff, students, board members and component superintendents who represented Capital Region BOCES during NYSUT's Annual BOCES Lobby Day events," said Capital Region BOCES District Superintendent Anita M. Murphy.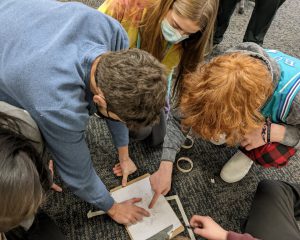 Nearly two dozen Capital Region BOCES representatives met with legislators on March 2.
Virtual meetings were held with the following legislative representatives or their designees:
Senators: Neil Breslin, Michelle Hinchey, Daphne Jordan, Shelley Mayer, Peter Oberacker, and Jim Tedisco.
Assemblymembers: Michael Benedetto, John McDonald, Angelo Santabarbara, Phil Steck, Chris Tague and Mary Beth Walsh.
The event is a unique opportunity for BOCES statewide, along with their students, staff, area school superintendents and school board members, to advocate on issues of mutual concern and share their stories.
Student stories take center stage
The stars of the day were really the students, who told their stories with poise and confidence.
"I'm out in the community learning real job skills at different sites… I'm practicing being a leader and taking initiative at these job sites," said work-based learning student Michael Sirigiano.
"It's one of the best experiences I've had in high school," said criminal justice student Madison Westerman. "I've been able to learn things I'll be able to use in my career. The criminal justice course really gives me an idea of what I'll need to do and what I'll need for my future."
Superintendents tout value of BOCES
Component school superintendents also shared their passionate support for BOCES.
"I could never provide to my students the depth and breadth of instruction and supports that BOCES provides," said Scotia-Glenville Central School District Superintendent Susan Schwartz. "Things are made easier or doable because of Capital Region BOCES."
"Because of the programs and services offered by BOCES we're able to right-size ourselves and offer services to students that might otherwise not be available in a small school district," said Ravena-Coeymans-Selkirk Central School District Superintendent Brian Bailey.
Read more about BOCES advocacy efforts on the BOCES of New York State website.