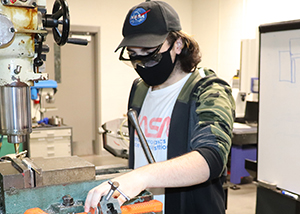 Adian Matile plans to be an astronaut one day and believes our Manufacturing and Machining Technology program will give him the knowledge and experience to reach for the stars. 
"I am going to college for electrical engineering. As an engineer, I will be writing blueprints and designing plans and it's best to know how the machines all work," said Matile. "That's why I took the manufacturing program at BOCES." 
Matile, who is often seen wearing a NASA hat or shirt, said he has always dreamed of space flight.
"I just like the mystery of it all," he said during a break from manufacturing a part in the BOCES machining lab.
The teen said engineering is the right path for him to reach outer space.
"I love to figure things out and engineering just comes naturally to me," Matile said. "I am really good with my hands and math."
Matile said the Manufacturing program has provided him with the knowledge and experience he sought and he believes he is ready for college—and later NASA. 
"This program has given me the experience and knowledge I need," he said.
Recruitment Now Underway
Recruiting is underway for the 2022-23 school year. The year will be highlighted by the opening of a new, state-of-the-art Career and Technical School, Albany Campus that will house nearly all programs. The Schoharie Campus will also remain open providing numerous opportunities for students in the southwestern reaches of Capital Region BOCES.
Learn About Our Career & Technical Education Programs
The Manufacturing and Machining Technology program is one of more than 40 programs offered on one of three campuses for high school students. Learn about the many courses available to through our Career & Technical School.