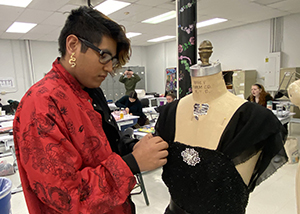 You could say that Greenville High School student Robert Vincent deserves a tip of the cap for his latest product. But then again, Vincent may actually make the hat.
The junior, a student in our Global Fashion program, is working with the owner of a Hudson N.Y. boutique, Millinery Treasures, to learn the craft of hat making.
"It's fun to learn new skills and get actual experience working with an expert," said Vincent, who spends Saturdays at the Warren Street shop with owner Tracy Young.
Vincent said he was challenged by Young to make a 1940s, post-war hat and first got his inspiration from researching the era and making a mood board. He is in the process of designing the gender-neutral hat and will then start making the physical product.
"I like the process. It's pretty hands-on and I like that she trusted me with taking this from idea to product," said Vincent. 
Once complete, Vincent said he will have two hats—one for him to keep and one that will be sold in the Millinery Treasures.
Young said Vincent has a bright future.
"It was quickly apparent that the [Global Fashion] program is providing Bobby with a solid foundation for a future career in fashion.  It's wonderful to work with the next generation of movers and shakers in the fashion industry," Young said.
Teacher Chloe Perazzelli said the partnership with Millinery Treasures is an excellent opportunity for Vincent.
"It's a fantastic opportunity for Robert to learn the art of millinery from an expert in the field. He is thrilled to be there and it shows when he talks about it with such enthusiasm," she said.
As to his future, Vincent plans to attend college for fashion and then business and hopes to one day work in the industry.
"I like the hands-on work and creativity of it all," he said.
Recruitment Now Underway
Recruiting is underway for the 2022-23 school year. The year will be highlighted by the opening of a new, state-of-the-art Career and Technical School, Albany Campus that will house nearly all programs. The Schoharie Campus will also remain open providing numerous opportunities for students in the southwestern reaches of Capital Region BOCES.
Learn About Our Career & Technical Education Programs
The Global Fashion program is one of more than 40 programs offered on one of three campuses for high school students. Learn about the many courses available to through our Career & Technical School.