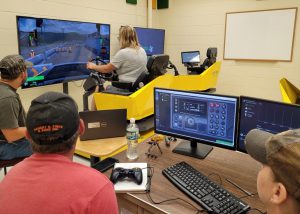 This summer, our Career & Technical Education Center in Schoharie received four new heavy equipment operator simulators that will be used to train students on how to operate backhoes, bulldozers, graders, excavators and dump trucks.
Training on the simulators for campus faculty and staff was led by experts from CM Labs Simulations.
Funded through a National Grid Workforce Development Grant, the simulators will be used in the Construction/Heavy Equipment program, which prepares students prepare for careers in the construction industry.
Students in the program learn everything from equipment operator and maintenance skills to how to construct buildings. They also earn National Center for Construction Education and Research (NCCER) certifications, which are recognized nationwide by contractors and employers, as well as OSHA and first aid certifications.
Students in the program already learn to operate and maintain more than a dozen pieces of heavy equipment, such as graders, backhoes, bobcats and more. 
"These simulators will better prepare our students for making the leap to operating the equipment," said Business Liaison Nancy Liddle.