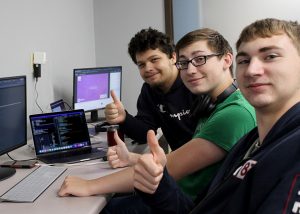 Current Career & Technical Education students and recent graduates are building their professional tech skills and earning real-world workplace experience through internships with local renewable energy firm and BOCES business and education partner Livingston Energy Group.
Gavin Christman, Nick Dunham, William Kruk and Michael Martin, all 2022 graduates of our Game Design and Implementation program,  joined rising high school senior Emily Burdikoff at the firm this July as interns. Burdikoff, who attends our Digital Media Design program, began her internship with the green company during the 2021-22 school year.
Currently, Christman, Dunham, Kruk and Martin are learning the programming language JavaScript and are being introduced to life in the workplace at Livingston. Once they finish the training, they will enter an 18-month paid internship working alongside software engineers working on the future of electric vehicle charging.
"The students are learning skills such as networking, building for scale and redundant systems," explained Nick Bordeau, Director of Software Engineering for Livingston Energy Group. "Once they complete JavaScript training they will begin work with a real-world team of software engineers who have been doing this for years."
That work will include developing software to assist Livingston as it expands its electric charging stations internationally.
"We have 1,500 charging stations installed all over the country and will have 5,000 all over the world next year," said Bordeau. "It's very likely that when the students are done, they will have worked on software that is deployed in multiple countries."
The graduates said the Game Design & Implementation program prepared them well for the internship.
"Learning coding [in the Game Design program] was very helpful. We did C# coding in the Game Design class and they are using JavaScript, but there is a lot of overlap," said Kruk.
"Game design was about getting focused and attentive to the task at hand. Learning how to format code was very important—basically there was a certain process you go by in game design and that process and focus to detail we learned transferred over very well to what we are doing here at Livingston," added Christman.
Dunham said the professional collaboration skills he learned at BOCES also transitioned him well to the work he is doing at Livingston.
"As game design students, we learned to work in an online workspace with others and that is how we worked on projects. That is pretty similar to what we do here," he said.
Burdikoff is interning in a different aspect of the Livingston operation, learning about and assisting a team of marketing professionals. Additionally, she is helping with social media and other projects in the communications and marketing office.
"I want to go into digital media and photography when I graduate, so this is perfect for me," said Burdikoff, who aspires to a career in digital media and photography. "I like it a lot and I am getting great experience."
Being A BOCES Business Partner "Just Makes Sense"
Bordeau and Kate Kruk, Livingston's director of community engagement and William Kruk's mother, said partnering with BOCES to prepare the next generation of technology workers "just makes sense."
"Our goal is to grab [students] and introduce them to the real-world before college," said Bordeau. "I went to Rochester Institute of Technology (RIT). If I could have taken a program like this rather than go to RIT for 4 to 5 years and spending 50, 60, $70,000, I would have jumped at the chance."
This is the first year the renewable energy company has partnered with BOCES after previously working with college students.
"Livingston had started working with college interns before I began working with the company, and when I explained to Nick what William's game design class was learning in high school, his response was, 'let's get them in here!'," Kruk said. 
Become A Business and Education Partner
Capital Region BOCES works with more than 300 businesses and institutions to train students and prepare them for today's careers and for that will exist in the future.
Learn how your business can partner with us.