Seven recent graduates of Capital Region BOCES performed well during a recent national competition that tested their professional skills and abilities last month in Atlanta.
Representing Capital Region BOCES at the national SkillsUSA competition were Class of 2023 Career & Technical Education graduates Olivia Harris, from Mohonasen, Rhiannon Islip from Sharon Springs, Jeffrey Caron from Berne-Knox-Westerlo, Mason Welch from Duanesburg, Justice Ebert from Schoharie, Tyler Furgason, from Schenectady, and Vincent Unser, from Schalmont.
"The SkillsUSA competition was an amazing, great way to meet like-minded individuals and grow your knowledge," said Islip. "As nationals, we also got to experience the variations (of practice) by state which ultimately provided us with beneficial knowledge as we enter the workforce."
Harris, from Mohonasen, was awarded a Skill Point Certificate for her effort.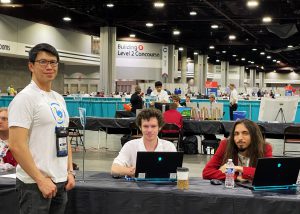 Skill Point Certificates were awarded to all national contestants who met a threshold contest score. The Skill Point Certificate represents workplace readiness in the occupational specialty, and students can add the certificate to their employment portfolio as an indicator of proficiency, according to a news release from SkillsUSA.
The Capital Region BOCES contingent competed against more than 6,500 students from across the United States who took part in the SkillsUSA National Conference, which was billed as the "largest gathering of America's future skilled workforce."
Madison Davern, from Ravena-Coeymans-Selkirk, served as a model for Harris throughout the regional, state and national competitions. She characterized the national competition as beneficial and amazing.
"My experience in Atlanta was all-around amazing. I met people from all over the country and got to experience things that I wouldn't have ever thought I would," she said. "SkillsUSA helped me prosper socially and learn skills I would not have learned before."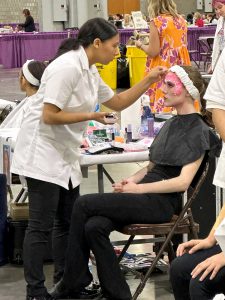 Islip, Caron and Welch competed in the Crime Scene Investigation competition after winning the state championship, Ebert competed in the Precision Heavy Equipment Operations contest after also winning a state championship and Unser and Furgason competed in the Interactive Application Video contest after placing second in the New York state competition. The state champion in that category opted to not advance to the national event.
SkillsUSA is a professional organization teaching technical, academic and employability skills that help high school and college students pursue successful careers. Members build these skills through student-led charitable acts, leadership conferences and other activities. Students in SkillsUSA participate in hands-on competitions in various fields such as science; technology; engineering; math; building construction; and heating, ventilation and air conditioning. All of this builds student confidence in themselves and their abilities.