More than 100 Capital Region BOCES Career and Technical School students from the Schoharie campus received certificates of completion, honors and awards on June 13.
As parents, friends, school and BOCES administrators cheered them on, 104 students from the Schoharie, Berne-Knox-Westerlo, Cobleskill-Richmondville, Schalmont, Voorheesville, Duanesburg, Middleburgh, Ravena-Coeymans-Selkirk and Sharon Springs school districts were celebrated in a ceremony at Cobleskill-Richmondville High School.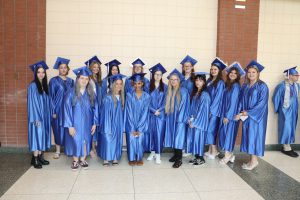 The ceremony marked the completion of one- and two-year programs at the school, including Culinary, Cosmetology, Commercial Construction/Heavy Equipment, Criminal Justice, Electrical Trades, Residential Construction/Heavy Equipment and Automotive Trades Technology.
Thanks to their education, the graduates are aspiring to careers as law officers, electricians, heavy equipment operators, mechanics, chefs and more in-demand occupations. Meanwhile, some graduates, such as Voorheesville High School senior Alex Stapf, have even already launched their own businesses.
Speaker after speaker praised the graduates for going above and beyond to secure bright futures.
Capital Region BOCES District Superintendent Anita Murphy encouraged the students to prosper despite what may be an initial fear of the unknown as they enter the next chapter of their lives.
"You are ready to go into the next part of your life. It's a little scary, but embrace it and walk through the next door confidently," she said.
Principal Matt Ward said he is in awe of the work the students work on a daily basis.
"These students have learned practical skills that carry them into the future and ensure a lifetime of success. I marvel at the work they have done," he said.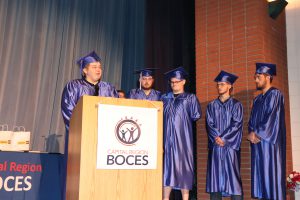 Student speakers Stapf and Nate Parslow, of Schoharie, spoke of resilience and the successes they have achieved because of BOCES.
Parslow, who lost his arm in an accident this spring, warned of the dangers of impaired driving (an allegedly impaired driver caused the accident he was involved in) and thanked the community and the BOCES family for their support during his ongoing recovery.
"I have received so much support from the community. The troopers and first responders who saved my life, the people who have helped financially, and my BOCES family who encouraged me with cards and notes have helped me deal with this life- changing event. I am grateful for all of you," he said.
Meanwhile Stapf said BOCES has provided opportunities for all of the graduates.
"Coming here to BOCES is one of the best decisions I have made and will benefit the careers of my classmates and I for the rest of our lives," said Stapf, owner of Stapf's Dirt Work and Grading.
Many of the graduates are going on to college and trade schools; others are going straight into the workforce thanks to the skills they learned and the connections they made at BOCES.
Take for example Construction/Heavy Equipment students Jack Barry, who is working for Flach Industries, and Electrical Trades student Dakota Moak, who is going to work at TCI, Inc.
"It's amazing to have a good job right out of school. It's complimenting my life goals – moving into an apartment and getting my life moving," said Moak, a Cobleskill senior.
"BOCES has been great. It's helped me get a better understanding of the work we do and helped me prepare for the real world," added Barry, who attended BOCES from Ravena-Coeymans-Selkirk.
Eliana Ragucci, Cosmetology graduate from Schalmont, is taking her skills to Vivid Salon in Rotterdam.
"I really like it at Vivid. I like the people and I like the work BOCES has prepared me for," she said.
Other graduates, such as aspiring law enforcement officer Jeffrey Caron, are using their BOCES education to give them a head start in college.
"I have learned a good bit about the criminal justice field, which will give me a good foundation for college. I have also earned college credits, which I plan to bring to Bryant and Stratton," the Berne-Knox-Westerlo senior said.
In addition to the completion ceremony, scholarship awards were given out to students to support their continued education or careers. 
Skills USA Student of the Year – Ruby Culletto, Culinary Arts and Hospitality Tech, Sharon Springs
Joseph N. Fuchs Award – Aidan Tidings, Electrical Trades, Schalmont & Tristen Smith, Culinary Arts and Hospitality Tech, Sharon Springs
Faculty Association Outstanding Student of the Year – Tyler Drexel, Construction/Heavy Equipment, Duanesburg and Justin Zier, Automotive Trades Technology, Schalmont
Richard A Conklin Award – Luke Napierski
Curtis Lumber Award – Scott Walters
Schoharie Valley Region AACA Scholarship – Mason Hebert, Automotive Trades Technology, Schalmont & David Foote, Automotive Trades Technology, Cobleskill-Richmondville High School
Ernie Anderson Memorial Scholarship – Danny Cater, Automotive Trades Technology, Middleburgh
Construction/Heavy Equipment Advisory Board Scholarship – Daniel Bradt Jr., Construction/Heavy Equipment, Cobleskill-Richmondville High School, and Tyler Drexel, Construction/Heavy Equipment, Duanesburg
Bryant & Stratton 'I Believe in You' Scholarship" – Jeffrey Caron, Criminal Justice, Berne-Knox-Westerlo, & Rhiannon Islip, Criminal Justice, Sharon Springs
Capital Region BOCES Culinary 2 Scholarship at SUNY Schenectady – Damien Gerardo, Culinary Arts, Schalmont
Schoharie County Highway Association Scholarship – Justice Ebert, Construction/Heavy Equipment, Schoharie
Regent Eleanor Powell Bartlett Scholarship – Tyler Drexel, Construction/Heavy Equipment, Duanesburg
2023 Penske Truck Leasing Scholarship – Tyler Drexel, Construction/Heavy Equipment, Duanesburg
Students were also recognized for their achievements in the classroom:
Automotive Trades
Outstanding Student – Justin Zier, Schalmont
Growth in Achievement – David Foote, CRCS
Construction
Outstanding Student – Jack Barry, RCS
Growth in Achievement – Luke Napierski, Voorheesville
Highest Average – Devon Hotaling Schoharie
Heavy Equipment
Outstanding Student – Daniel Bradt, Jr., CRCS
Growth in Achievement – Nate Lupi, BKW
Highest Average – Tyler Drexel, Duanesburg

Cosmetology
Outstanding Student – Brianna Galka, Schalmont
Growth in Achievement – Rhianna Varin, Duanesburg
Highest Average – Allyson Bates, BKW
Criminal Justice
Outstanding Student – Rhiannon Islip, Sharon Springs
Growth in Achievement – Kaylee Duncan, BKW
Highest Average – Jeffrey Caron, BKW
Culinary Arts
Outstanding Student – Olivia Mais, BKW
Growth in Achievement – Haily Lawrence, Duanesburg
Highest Average – Hailey Chase, BKW
Electrical Trades
Outstanding Student – Lucas Pryor, CRCS
Growth in Achievement – Lucas Grenier, Duanesburg
Highest Average – Trenton Robert, Middleburgh