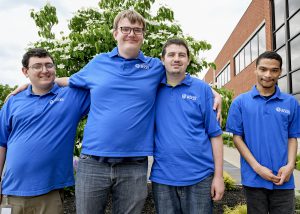 Students in our Work-Based Learning/SELFI (Skills for Employment, Life and Functional Independence) program recently celebrated a successful end to their high school career during a ceremony attended by proud family, teachers and friends of the program.
Students also used the occasion to thank their business and community partners for the opportunity to work in their businesses, offices and other settings, where they make valuable workplace connections and gain important employment and interpersonal skills.
Many of the exiting students have been in our programs for years. Student Antonio DiSanto summed up the meaning of the program in a speech during the ceremony:
"I have improved so much the last two years and I don't think I would be the person I am without the SELFI class."
Congratulations to our Work-Based Learning program students and grads — we can't wait to learn what you'll do next!
Business/Community Partners Support Work-Based Learning
For students who attend our Special Education programs, including our Work-Based Learning/SELFI program, community and business support helps expand their classroom learning and offers meaningful workplace exploration and job experiences. Some of our business/community partnerships, include:
Bring on the Spectrum (BOTS)
Capital Region BOCES and the Northeastern Regional Information Center (NERIC)
Concerned for the Hungry in Schenectady
Metro Ford
Plato's Closet
Price Chopper/Market 32
The Regional Food Bank
Schenectady City Mission
The City of Schenectady
Toys for Tots
Learn more about our Work-Based Learning program and how you can partner with Capital Region BOCES in support of our students.