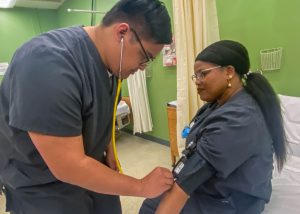 More than 160 adults are now looking to change careers or bolster their employability through our Adult Practical Nursing program.
The adult students range from those fresh out of high school to those looking to launch a new career, as well as those looking to climb the nursing career ladder, said Principal Paula Negri.
The new school year for the adult education program began in early September with approximately 130 students in the full-time program and 37 enrolled in the part-time evening program.
Among the new students is Watervliet resident Rachel Medina, who currently works in hospital maintenance.
"I want to better myself and do this for my kids—show them that I can improve myself and do better," Medina said.
Schenectady resident Kamilah Stubbs said that after raising her children, it's time refocus her energy on herself.
"I have been raising my kids and now that they are all in school, it's my turn," she said.
For Albany resident Chaikh Niass, the adult nursing program is providing an opportunity to climb the career ladder.
"I have been a certified nurse assistant (CNA) for seven years and wanted to enroll in this program three years ago, but life got in the way. I am here now and ready to roll. I want to go all the way—registered nurse, nurse practioner, all the way to the top," he said.
Demand Grows For Skilled Nurses 
As has been widely publicized, demand for nurses is skyrocketing and local institutions have renewed their efforts to work with schools, such as Capital Region BOCES, to meet their needs.
"We've had really good candidates come out of these programs; we had a number of hires from past career fairs at Capital Region BOCES year and I see no reason why this year will be different," said Celeste Conte, a recruiter for Albany Medical Center.
Full- and Part-Time Learning Options
The full-time Adult Practical Nursing (APN) program that started Tuesday at the Capital Region BOCES Career and Technical Education Center – Albany Campus continues into June when the program will graduate its students into the world of being a licensed practical nurse (LPN). The New York state-approved APN program encompasses 1,100 hours of classroom and clinical study and practice and prepares students to take the National Council Licensure Examination and apply to become a New York state LPN.
The 18-month part-time Adult Practical Nursing (APN) program resumed classes in September after summer vacation. The program, which started in January, also concludes in June.
Learn About Our Adult Health Careers Offerings
Interested in a career with room for growth and the potential for excellent compensation? Consider becoming an Adult Practical Nurse (APN). 
For more information about our Adult Health Careers offerings, call 518-862-4709 or email healthcareers@neric.org.