ALBANY – Danielle Graham knew from a young age that she wanted to be in law enforcement, but it wasn't until she enrolled in the Capital Region BOCES Criminal Justice Program that she knew she wanted to be a New York State Trooper.
Graham, a 2018 graduate of BOCES and Cobleskill-Richmondville High School, graduated from the New York State Police Academy earlier this year and is taking part in field training now, before starting her full-time assignment in Troop D, which stretches from Herkimer to Watertown.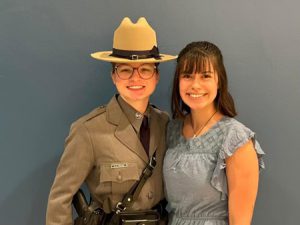 "I love it," she said, "It feels like such an accomplishment."
Indeed, the young trooper has achieved a milestone in her career that she started dreaming of when she was just a child.
"I knew I wanted to be a police officer since I was 9, but it wasn't until I got into BOCES and a recruiter for the state police came in and I decided right then that I wanted to go join the state police," Graham said.
The recruiter, Technical Sgt. Lisa A. MacLauchlin, is a routine visitor to teacher Gerald Place's Criminal Justice program on the Capital Region BOCES Career & Technical Education Center – Schoharie Campus. The trooper and other law enforcement professionals work with the students on various projects, provide information on the wide variety of opportunities in law enforcement, and serve as role models.
"She talked about all of the opportunities—that it's not just pulling over people and writing tickets; it's about working with canines, being investigators, learning defense tactics—there are a lot more options with the state police," Graham said.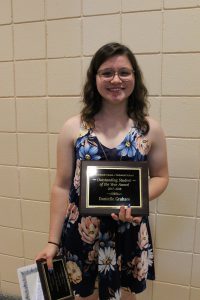 After graduation, Graham obtained an associate degree from SUNY Schenectady and was ready to take the Civil Service exam to become a trooper when COVID put a freeze on testing.
When she took the test, Graham said she was more than prepared for it, as was evidenced by her ranking of 500 out of 20,000 or more people who took the exam.
"BOCES helped me know what I was getting into," she said. "It helped me with my talking skills; there's a lot of public speaking in being a trooper. In the classes, we were taught common vehicle and traffic violations, how to make an arrest, how to process a crime scene, so BOCES just really gave me a good foundation," Graham said.
"When I was in (New York State Police) Academy, I was relearning stuff I had already learned in BOCES," she added.
She also said BOCES gave her education purpose.
"Before BOCES, I took school seriously, but I wasn't really intrigued about learning English and other courses. BOCES is what I was looking forward to every day because I was learning skills that I will use in the future," said Graham, who earned Outstanding Student of the Year honors in 2018.
The young trooper said she is currently leaning towards becoming a drug recognition expert with the state police and working with a canine officer.
"I had a rough childhood with drugs and domestic violence involved around and …. I want to prevent children from getting scared and help children feel safe when law enforcement comes into their lives," she said.
MacLauchlin called Graham a motivated learner.
"I met Danielle when she was a junior in the CTE Criminal Justice program. Even then, she was determined, focused and driven," she said. "Witnessing Danielle's journey from a student to becoming a New York State Trooper has been a privilege."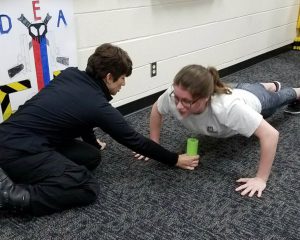 Place, Graham's teacher at BOCES, said Graham was an ambitious student with a desire to grow and achieve her goals.
"It was clear early on that she had a thirst and desire to be better. I am happy to have a part in her career path and I am enjoying watching her success," he said.
Students from nearly two dozen school districts are enrolled in the Criminal Justice on the Schoharie and Albany campuses each year. Working with partners in law enforcement, such as the New York State Police, students learn about the history, theory, practices and recent developments in the field of criminal justice, as well as practice the skills necessary for those careers
MacLauchlin said BOCES does a great job preparing students such as Graham for careers in law enforcement.
"The program exposes students to different career fields, giving them attainable goals empowering them to pursue, excel and reach their professional ambitions. …The instructors consistently challenge and motivate our youth to achieve success in all aspects of their life," she said.