A Capital Region BOCES teacher with four decades of experience in the classroom has been named Teacher of the Year by the New York Association for Continuing and Community Education (NYACCE).
Frank Finch, who teaches the adult high school equivalency (HSE) courses at Capital Region BOCES along with the Washington-Saratoga-Warren-Hamilton-Essex (WSWHE) BOCES, received the honor during the NYACCE conference on Thursday at the Albany Marriott. NYACCE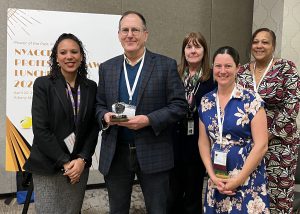 represents agencies and adult education programs throughout New York State that are committed to providing lifelong learning opportunities for adults.
"Frank Finch is the definition of a student-centered educator," Capital Region BOCES Adult Education Program Manager Mike Markou said.
"Frank cares deeply about the success of every one of his students. Not only does he know all his students by name; he knows their stories, their history of where they came from and where they want to go, their strengths, their challenges… and most importantly he builds the relationships necessary to help them learn the knowledge and skills they need to get there," Markou added.
When asked about the honor, Finch was humble.
"This is truly humbling. I feel like I am here with many, many of my students from over the years," he said.
Finch, who has worked at Capital Region BOCES for a decade, said he loves interacting with his students on a personal level and watching their successes.
"I love seeing huge changes, where students who once hated their learning environment now feel safe and energized," he said.
Current HSE students praise Finch.
"The teacher is great. He explains things well," said Zekriya Baz Mohammad, a current student from Latham who emigrated to the US from Afghanistan more than a decade ago.
"The program is great. My grandfather was a teacher and Frank reminds me of him in his mannerisms, way of speaking, way of getting to know his students and helping all of us," added Tanya Prokopenko, an Albany resident who emigrated from Ukraine last year and is taking the HSE class to meet people and learn American customs.
Finch has taught a variety of classes over four decades, working in both adult education settings, as well as high schools. His education career has brought him from Central New York to the Capital Region and North Country.
"The biggest victories you have as an educator is when students see a much bigger and brighter future for themselves. You can see it in them," Finch said.