September 2022 Commitment Award For Service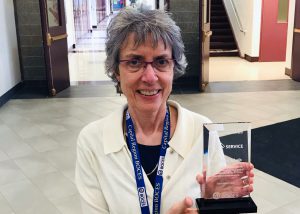 Katherine Scheib, an orientation and mobility specialist with our Special Education division, has received the September 2022 Commitment Award for Service.
In nominating Scheib for this award, Director of Special Education Caralee Kardash had this to say:
"Katherine's commitment to service benefits students and districts across our region. Katherine goes above and beyond to ensure students in need receive O&M services. Katherine does this by finding creative ways to schedule students who are spread throughout our region while managing the increasing demand for her expertise. This year, she provides services for students in 12 school districts – an increase in districts served since last year of 25%.
School districts in our region seek out Katherine because of her knowledge, professionalism and the exemplary results of her work.
Katherine Scheib provides services for students in our BOCES programs as well and, therefore, her accolades come from both external and internal colleagues. Katherine Scheib exemplifies a commitment to the service of students, school districts, and our organization."
Along with Kardash, others who work with Katherine Scheib had this to say about her commitment to students: 
"Katherine is a top-notch O&M instructor! She utilizes all aspects of the environment to work with her students and help them to improve their independent mobility. She is insightful and relates specific routes of travel to students' interests. She is a caring and supportive teacher," said Shari Rosato, director of special education for Schalmont CSD.
Doreen Seymour, teacher of the visually impaired for Capital Region BOCES, highlighted the fact that Katherine works with students who have vastly different and unique needs, calling her "organized, smart, and knowledgeable about differently-abled students."
Congratulations and thank you for your dedication to our BOCES and our students, Katherine!
The Commitment Awards were established to recognize employees who embody each commitment to a significant degree, and is one part of a three-tiered recognition program to build a culture of gratitude through acknowledgment and appreciation. Our Commitments — SERVICE, VALUE, EXCELLENCE, IMPROVEMENT, LEADERSHIP — embody what we do and who we are.