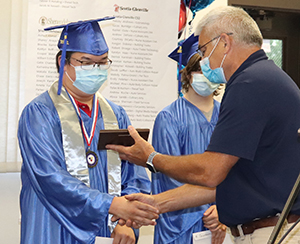 More than 400 Career & Technical School students were honored this month for their skill and excellence in more than 40 programs ranging from diesel technology to health careers, welding and culinary. 
Members of the Class of 2021 will go on to college and trade schools or straight into the workforce. Among them are Reilly Pannone, who started work earlier this year at John Ray & Sons, a Troy-based provider of heating and cooling services.
"I tell everyone that you should take BOCES seriously because it can take you places," said Pannone.
Students met in person daily at each of BOCES' Career & Technical School campuses (Albany, Schoharie and Center for Advanced Technology @ Mohonasen) during the 2020-21 school year. Students and staff showed incredible patience, flexibility, perseverance and resilience while navigating daily health screenings, social distancing, personal protective equipment and more to keep school safe and open for in-person learning. 
"I am extremely proud of you, our students, our faculty and staff for all you have accomplished in such challenging times," District Superintendent Anita Murphy told graduates earlier this month.
Throughout the year, students earned certifications such as OSHA10, Adobe and New York State Department of Transportation Welding. They worked on-site in dozens of businesses across the region. Students also took part in a half-dozen in-person and virtual career fairs with employers ranging from Albany Medical Center and St. Peter's Hospital to Albany Truck Sales, Callanan Industries, Inc., Finke Equipment and Mobility Works.
Diverse Backgrounds, Common Goals
BOCES graduates represent a cross section of the Capital Region, hailing from more than two-dozen rural, urban and suburban schools as far afield as Amsterdam, Cobleskill, Cohoes, Sharon Springs, Christian Brothers Academy, Shenendehowa, Bethlehem and Watervliet. 
Despite their diversity of background and training, graduates all have a similar desire – to enter the skilled trades and help combat the "middle skills jobs gap" while rebuilding the nation's economy.  To achieve those goals, students met throughout their one- and two-year programs with business partners who trained them on the skills employers need, as well as providing real-world experiences and opportunities.
"I was hired by Altamont Spray Weld because of the skills I learned at BOCES and the internship I had at Altamont," said Cardell Iarusso, a graduate of the Welding and Metal Fabrication program from Mohonasen.
Graduates Help Build Region's Workforce
Business partners regularly recognize the role BOCES' graduates play in building the region's workforce with skilled workers. 
"Capital Region BOCES gives us a great base to hire from," said Stanley Pollard of Penske Truck Leasing. 
"BOCES does a great job connecting students with local businesses who are in desperate need of help," said Anthony Roy of Albany Truck Sales.
For those not directly entering the workforce, Capital Region BOCES serves as a springboard to college and careers. Graduates will attend schools as diverse as Ithaca College, SUNY Adirondack, SUNY Delhi, the University of Buffalo, the University of Northwest Ohio and Elmira College. 
"I am studying biochemistry at the Jacobs School of Bio Medicine at the University of Buffalo and then going to medical school and becoming a pediatrician," said Kaylee Clute, a graduate of the Two-Year Sequence of Health Careers program from Scotia-Glenville High School. "Going to BOCES gave me the opportunity to see if this is what I want to do in the future and it is."
Students on each campus received certificates of program completion along with dozens of awards and college scholarships. Read about the 2021 Career & Technical School graduation ceremonies and student awards.