Celebrating Our Graduates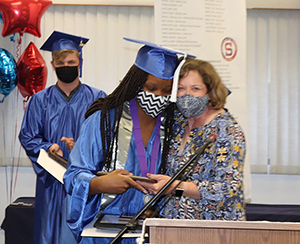 Several hundred Capital Region BOCES Career and Technical School (CTE) students were honored Monday, June 14, during a pair of hybrid ceremonies on the Albany Career & Technical School Campus.
With parents, friends, school and BOCES administrators cheering while watching on live stream, students from the Guilderland, Watervliet, Cohoes, Shenendehowa and Bethlehem  schools, as well as a dozen more were celebrated.
The ceremony marked the completion of one- and two-year programs at the school, including diesel technology, culinary, cosmetology, building trades, criminal justice, heating, ventilation, air conditioning and refrigeration (HVAC/R), carpentry and automotive technology.
Bright Futures
Speaker after speaker praised the graduates for going above and beyond to secure bright futures, and assured the graduates they will always part of the BOCES family.
"You are part of our family for a lifetime," said Capital Region BOCES Senior Executive Officer Joseph P. Dragone, Ph.D. "If you need anything you can come back to Capital Region BOCES and we will help you."
"When you walk across our stage know I am so proud of you and all you have accomplished," added Albany Career and Technical School Principal Shelette Pleat.
Many of the graduates are going on to college and trade schools; still others are going straight into the workforce thanks to the skills they learned and the connections they made at BOCES. Among them are Reilly Pannone, who started work earlier this year at John Ray & Sons, a Troy-based provider of heating and cooling services.
"I tell everyone that you should take BOCES seriously because it can take you places," said Pannone.
Campus-Wide Awards
Dozens of awards were handed out ranging from college scholarships to program awards. Below is list of scholarship recipients.
Among those honored was Melody Francis, a culinary graduate from Niskayuna, who was named The SkillsUSA Student of the Year. The award is given to the student who best exemplifies SkillsUSA by their leadership and service to others, participation in all facets of the organization, and dedication and diligence to their vocation.
Other scholarships and award presented include:
The Jay Frankel Award – Donovan Church, Building Trades, Guilderland
Outstanding Student of the Year Award 2021 – Keleigh Regan, Cosmetology, South Colonie, and Madison Rousselle, Cosmetology, Shenendehowa
Student of the Year Nominee – Ganon Riordon, Criminal Justice, Niskayuna
The William Kress Humanitarian Award 2021 – Treyvon Landells, Culinary, Mohonasen
The Joe Fuchs Award – Angelo Carino, Culinary, Guilderland
The SkillsUSA Student of the Year – Melody Francis, Culinary, Niskayuna
SkillsUSA Area III Scholarship – Keleigh Regan, Cosmetology, South Colonie
Mike Todd Award – Ricardo Domena, Welding and Metal, Watervliet
Read about program awards recipients from our Career & Technical School Albany campus.
Watch a Replay of the June 14 Albany Career & Technical School Graduation
A.M./Morning Student Ceremony
P.M./Afternoon Student Ceremony