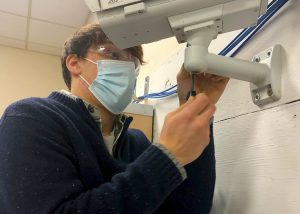 Recent Network Cabling Technician/Smart Home Technology program graduate, Thomas Rodick, has built a solid educational foundation—preparing him for the Electrical Construction and Maintenance (ECM) program at Hudson Valley Community College he will attend this fall, and securing him a future career at National Grid. 
"At BOCES, my classmates and I learned industry skills, took part in college and career preparation and gained experience in a team environment. Because of our top notch instructor, we were exposed to cutting edge skills that will enable our careers," Rodick said.
Along the way, Rodick also added leadership and public speaking to his resume, demonstrated while competing in—and winning—the regional SkillsUSA speech competition and sharing his winning oratory skills at several Career & Technical School events.
"BOCES Career and Tech is like nothing else. It has taught me skills—career skills, public speaking, leadership—that I will use throughout my lifetime," he said. "I really like how BOCES connects education with everyday life."
Rodick summed up his education—and the education of fellow Career & Technical Education students—by saying, "CTE creates a professional workspace for students to merge into mature employees and scholars. This is because we, as students, are treated more like employees. We go from asking for hall passes to working in important roles within a team or a company."
Students in the Network Cabling Technician/Smart Home Technology program learned skills in everything from network cabling using copper-based systems and applied systems integration to energy management systems and telephone systems. Students in this program are prepared to enter the industry or pursue higher education and earn professional certifications that will aid them no matter the path they choose. 
Learn About Our Career & Technical Education Programs
The  Network Cabling Technician/Smart Home Technology program is one of nearly 40 programs offered for high school students. Learn about the many courses available to through our Career & Technical School.