Lauren Gemmill welcomes Governor Hochul to TVHS
On Sept. 7, Governor Kathy Hochul signed two significant bills into law at Tech Valley High School, using the school's innovative model as an illustration of the benefits of Advanced Placement (AP) courses.
Accompanied by an esteemed group of educators, officials, and students, Governor Hochul's visit to Tech Valley High School was a testament to the future of education in New York State.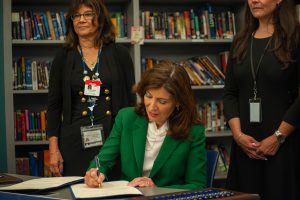 Gov. Hochul signed the following pieces of legislation:
A.514-A/S.5650-A (Advanced Placement Course Information): This law ensures that parents and students will receive information about Advanced Placement (AP) courses. This information will cover what AP courses are available, how to sign up for them, and why it's beneficial to take these courses.
S.1732/A.6091 (Student Government): This law requires high schools or school districts without student governments to create them. Student governments allow students to have a say in how their schools are run and give them the chance to be involved in decision-making.
At the event, Capital Region BOCES Superintendent Lauren J. Gemmill introduced the Governor.  View a broadcast of the event here. 
"Tech Valley High School embodies innovation, technology, and the spirit of progress, which aligns directly with Governor Hochul's vision for the future of the state," she said. "Her visit today will inspire our students to continue to explore new horizons and become the inventors and leaders of tomorrow."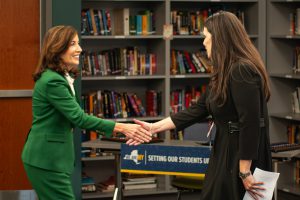 Also in attendance were Capital Region BOCES Chief Operating Officer Joseph Dragone, Questar III BOCES Superintendent Gladys Cruz, Questar III BOCES Associate Superintendent James Niedermeier, New York State Assemblyman Steve Otis, Tech Valley High School students, and members of the state Executive Chamber and high school's foundation board. 
Governor Hochul emphasized the importance of these legislative changes, stating, "Education is the great equalizer for young New Yorkers. This legislation proves that we're not just changing policy — we are creating environments where every family has the knowledge to best support their kids on their educational journey, and students have the opportunity to practice civic engagement through opportunities in their own classroom."
Tech Valley High School (TVHS) is a joint venture of Capital Region BOCES and Questar III BOCES, accepting students from both BOCES regions, covering much of the Capital Region. The two BOCES share the management and operation of TVHS, including filling the TVHS Operating Board with five board members from each BOCES.
"At Tech Valley, all students have the opportunity to take courses for college credit, and we echo the Governor's sentiments that all New Yorkers should have the opportunity," Tech Valley High School Principal Amy Hawrylchak said.