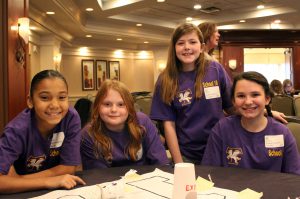 More than 600 educational administrators, instructors, students and business partners gathered at the 30th Annual Regional Technology Awareness Day to share and show how technology can inspire student learning.
The annual event hosted by the Northeastern Regional Information Center (NERIC) showcases cutting-edge education technology innovations and includes discussion on ways that schools can use technology to enhance instruction and streamline school district operations.
 "Building Bridges with Your Stories" was the theme of this year's Dec. 14 event.  
Approximately 50 students and 24 school districts from across New York state participated this year. A highlight of the day for many were students presentations on topics such as digital citizenship, student-led help desks, coding and much more.
"Tech Awareness Day facilitates a much needed opportunity to stay current in education, purposefully implementing technology into curriculum and instruction," said Patti Siano, instructional technologist and classroom teacher at Corinth Central School District. "The dynamic presenters engaged participants by sharing tools and techniques with which we could walk away and use immediately back in our home districts. Seeing students engage with tech and explain it to the adults present is outstanding!"