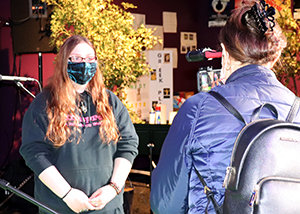 While 2021 graduate Noel Lyman has designs on a career in the graphic arts, spending a year in the world of theater "raised the curtain" on new skills and creative pursuits she hadn't known she might want to explore, too.
"There is something in the [Entertainment Technology program] for everyone," said Lyman, now a freshman at Cazenovia College. "It is great for students from all backgrounds and can even encourage discovery of what you want to do with your career."
"The program will get you informed of all aspects of theater, so you have a grasp of everything. And, you get hands-on experiences and opportunities within [a historic local] theater. What's not to love?" Lyman added.
Lyman, who was named 2020-21 Career and Technical School/Center for Advanced Technology @ Mohonasen Student of the Year said she expanded her illustration and hands-on artistic abilities doing set and costume design in the program, and developed skills in theater and film production. At the same time, she learned to craft a resume and write cover letters.
Students in the Entertainment Technology program experience the world of theater and film production, and gain skills learning in the Addy Theatre, Media Lab, rehearsal spaces and main theater of the historic Proctors Theatre in Schenectady. Students learn about the many jobs and the skills needed to work in the entertainment industry, including set design/carpentry, lighting/stage electrics, sound design/recording, costuming, stage management, film/media, and more.
"The Entertainment Tech program gave me the tools I need in order to get into the work field while offering amazing opportunities along the way," Lyman said.
Learn About Our Career & Technical Education Programs
The Entertainment Technology program is one of more than 40 programs offered on one of three campuses for high school students. Learn about the many courses available to through our Career & Technical School.