October is National Careers in Construction Month and we are highlighting our construction industry training programs and the benefits they provide to area teens and adult learners. We will also highlight our partnerships with area businesses that make these programs possible, successful and a major pipeline for workers into the regional construction workforce.
Hands-On, Real-World Education Paves The Way To A Great Career
From electrical trades and heavy equipment to construction, carpentry and HVAC/R, our students are building bright futures on a solid foundation of business support. 
Careers in Construction Month Events
Throughout October, students participate in a host of  learning and training opportunities themed to Careers in Construction Month courtesy of our many business and industry partners.
These opportunities include tours for students of the new Career and Technical School and Special Education school construction site, presentations and demonstrations by business partners, certification classes and field trips to local business partners. 
Students will have the opportunity to learn in the brand new, state-of-the-art campus at 925 Watervliet-Shaker Road. The facility is outfitted with modern labs and learning spaces to train students and adults for current and future industry needs.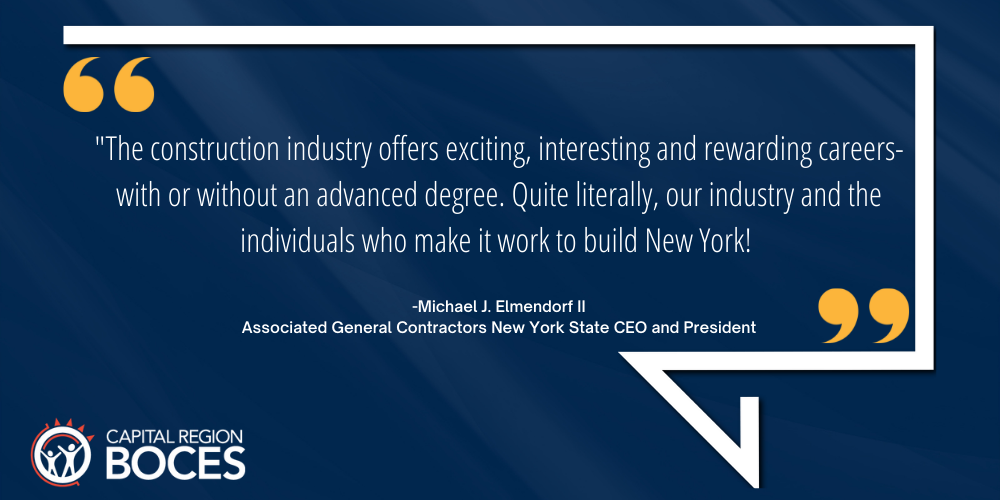 Construction Business Partners
Nearly 90 area businesses and institutions regularly collaborate with Capital Region BOCES, including Associated General Contractors New York State, BBL Construction Services, Carey Electric Inc., Collett Mechanical Inc., McD Metals, LLC, Parker & Hammond Construction, LLC and Stone Bridge Iron & Steel, Inc.
"These partnerships are critical because they allow us to stay on top of what is going on in the industry," said Capital Region BOCES Senior Executive Officer Joseph P. Dragone, Ph.D. "They also help to place students in good jobs that help grow the regional economy and overcome national unemployment trends."
Construction Business Partners
Build Your Future
Capital Region BOCES signed a pledge with Build Your Future to spread the word about the wide range of construction career paths while promoting positive perceptions of construction. We also filed a proclamation with New York state to enlist the governor's help in commemorating October as Careers in Construction Month.
Build Your Future also offers craft training scholarships for students interested in the construction industry. Learn more about the scholarships offered.